Biking along the boulevard
Avenue Veteran
BINGO!
Celebirdy of the Month
Mayor of the Avenue
Avenue Spotlight Award
Joined

7/3/16
Messages

7,747
Location
Real Name

Sarah
January 2019 Feathered Estates Highlight


I am very pleased to announce this month's showcased member Brittany0208!!!

​
1~ What kind of birds do you have and how many birds did you design your setup for?
I have one bird who is a Greater Vasa named Java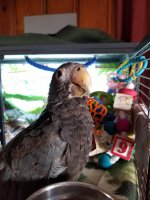 2~ Is your setup for a handicapped bird?
Yes, at some point in Java's past as an aviary breeder, he was attacked by a raccoon, which resulted in the loss of his left leg. Not only did he lose a leg, but his remaining leg has also been damaged with tendon entrapment, which leaves it with no range of movement, and it is locked at a 90 degree angle. All he can do with his foot is open and close three of his four toes.
3~ Are there any budgeting tips you discovered while doing your setup?
Yes, I've learned to utilize a lot of the items I already had: blankets, throw pillows, storage containers, tables. The thrift store and Dollar Store have been a delight to the wallet.
4~ Is your setup changeable or stationary and do you add or make changes continually or do things stay primarily as is?
Java's setup, because the cage is set on a table, is stationary but I'm always, as my family says, 'messing with his cage' when I get a new idea or want to try a different layout. I'm trying to limit how often I mess with it because I want him to get used to its entirety and not just his sleep perch, which is currently the only place he'll sit when he's in his cage.
5~ Where did you find your materials if you made it yourself or where did you purchase the setup and do you have favorite places to purchase safe toys and/or supplies that you find reliable?
Aside from using blankets I already had, all of his fleece blankets and disposable pee pads came from either Walmart or the Dollar Store. His cage (Midwest Critter Nation Single Unit) came from Drs. Fosters and Smith, and it's intended for rodents, ferrets, and small animals like that, but with the way Java continuously fell from his old cage, I knew I'd have to switch him to a safer alternative before he really hurt himself. As far as toys and supplies, I did buy a lot of his stuff from Amazon, but now I've begun using the vendors on AA as a first option. Items that I can't find from the vendors, I usually shop on Etsy or Amazon.
6~ Do you have a favorite item that you bought for your setup?
My favorite item(s) has to be the fleece blankets. I'm always looking for different colors and patterns so I can switch his cage theme every so many months. I guess I enjoy decorating his cage more than he does, but knowing that everything is soft and safe is the main goal after each renovation.
7~ If you made any DIY toys what is your bird(s) favorite and were there any failures?
He's still learning to play with toys, so I find myself taking apart some toys that he may not play with and adding them to toys that he's more interested in for the sake of variety and desensitizing. Thus far, out of the many toys that he has, he only takes interest in one or two at a time, so I carefully rotate those for a new one once he's destroyed them.
8~ Did you incorporate into your setup any foraging toys and how did your bird(s) take to them and was age or inactivity a factor?
Java has about five different foraging toys, yet he uses none of them and I believe it's because he doesn't know how to use them. He also isn't that active and moving around is a challenge for him, so I try to keep his toys within reach until I teach him to use the entire cage.
9~ What difficulties did you encounter, if any, and how did you remedy them?
The biggest difficulty was not being prepared when I started looking for a bird companion. It never crossed my mind that I could end up with a special needs bird, and thus, I bought a regular cage, regular toys and perches before I knew what bird was coming into my life. Then, when Java came along, I learned that nothing I had accommodated him because originally I hadn't intended on bringing home a challenged bird. So, those many perches I bought I ended up donating to a local sanctuary because Java couldn't use them. He used his cage for the first several months he was with me but then I realized that the shape of the cage was less than ideal, so I ended up donating that as well once I found his current cage.
10~ What do you like least about your set up (if anything)?
It isn't mobile since it's on a table, so moving it around is out of the question unless there is a second or third person helping me. Had I used the cage as-is out of the box, wheels included, it would be too low to the ground and I'd have to bend.
11~ What do you like most about your setup?
I love that the entirety of the cage has horizontal bars! It makes climbing much easier for Java, and adding toys and platforms are a piece of cake.
12~ Did your bird(s) take to the setup right away or did they approach it tentatively needing time to adjust and do you feel their age was a factor?
Java is suspicious of EVERYTHING! But to my surprise, it took only a few minutes for him to settle into his new cage, and I believe it's because I had it setup in his view for about two weeks before I transitioned him over. Considering he's never had anything of his own or been indoors, he's still adjusting to everything about living indoors

13~ Any future renovations planned?
I really wanted to take two single units and attach them to make one long aviary for him, but I don't have the space at the moment. One day, though, if the additional mobility isn't an issue, I'd like to do this and maybe encourage him to fly.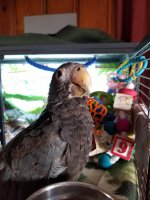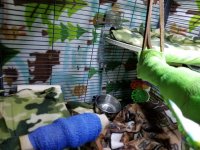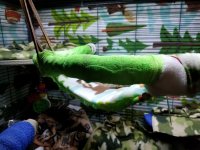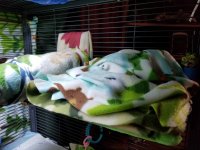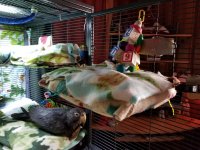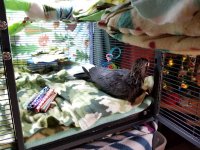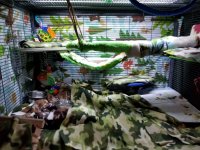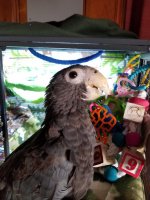 Last edited: