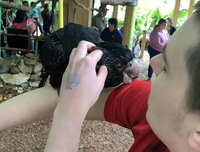 This is Zelda, a red-tailed black cockatoo at Parrot Mountain in Pigeon Forge, Tennessee. Here she is, being spoiled.
This was around 5 days ago, and it was my second visit to the place. Her behaviour was remarkably different compared to several months ago. When I visited in August of 2020, she was really feisty and nippy. Now, she is very tame and obedient. I could get her up and down, and also pet her without getting bitten. She's really sweet, honestly.
I have never owned a parrot, but I'm no stranger to their behaviour. I've been doing quite a lot of research for the past 2 years, so I think it's about time I prepared for getting one. Any further reading is just redundant, now.
I would really like to get a red-tailed black cockatoo. I have jumped between a lot of different species (Scarlet macaw, green winged macaw, mollucan cockatoo, congo african grey, hawk-headed parrot which was an absolute nope, and now this), I feel like this is the one though.
The main appeal I see is the moderate size and the contrast between the furniture in my home and the colour of the parrot. Pin feathers will be easier to spot and get out compared to the usual white cockatoo. The larger size compared to a budgie yields less frequent poops and slower flight and movement. Quick movement makes me too anxious that something could go wrong.
It's a really nice balance between large and small. I won't need an outrageous amount of real estate for it, but I won't have to check under the towels constantly.
Since it's larger, it should potty less often and movement should generally be slower than small parrots. Fly slower, move their head slower, walk slower, grow slower. I like to have a little more time to think. I feel like size and difficulty have too strong a correlation. Smaller isn't always easier. Big things aren't always scary. Small and large both have pros and cons.
And, yes, I want a cool-looking parrot. I'm sorry, but I'm a sucker for black and gold. Look at my phone. It's black and gold. I'm also a black and red sucker, and take a look at the male. Guess what? It's
perfect.
It's shocking that this species is described as tame. Most "flashy" parrots are the extra-aggressive ones, but these ones seem to grow to be sweet with the right owner. Its price doesn't seem too dissimilar to other cockatoos, either.
Also, challenge is what I need. Challenge has always pushed me to do better. Difficulty gets my creative mind working. For the past few years, I've lacked that challenge, and I have felt miserable compared to when I was young.
I have a neighbour who owns a blue-throated macaw. He describes that the difficulty has helped him grow as a person. He also said that despite the difficulty, parrots are really fun to live with. That mutualism between me and an animal is what I need, and I need more fun in my life. Animals have always made me happier.
The biggest problem is my dog, Vanta. He's really sweet. My concern is not him getting hostile, but that he'll try to lick it. That's unlikely to happen with proper training, anyway. It's like keeping him off of my allergic mother, just with a parrot now. It's a process he has already been through. I will keep them as separated as possible initially, and slowly get them sharing the same spaces. I will never leave them in the same place unattended, though.
That's the biggest problem I could find, so this may be a cakewalk.
I really understand the predator risk, but if you met my dog, you'd know it wouldn't be a problem. He has been at ground level with parrots before, and he has always left them alone. The most aggression he has shown against another parrot is the umbrella cockatoo barking contest from 5 days ago. He has absolutely no predator in him. He's a pathetic jumper, too.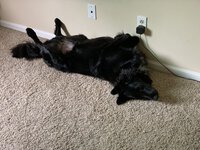 Lazy and sleepy, a real dog. I couldn't trade this one for anything.
But, regardless, I only have articles to read. Zelda (and Link, a male one) are the only red-tailed black cockatoos I have ever seen (and also held, and I felt really comfortable with both of them on me, I shouldn't be biting more than I can chew). No parrot will perfectly allign with its behaviour description. Information about them may be false. I also have to actually find one of these, not to mention.
I might be ranting, or rambling, or something else, but the life-changing experience is exactly what I'm looking for. I'm trying to keep this post neat and clear. Other people I have asked about harder parrots only talked down to me without considering the effort I'm putting in. I know this is no beginner parrot, but I will seek professionals to make sure I'm ready. I want to get across that I'm taking this opportunity very seriously. If this post looks jumbled, it's because I'm scared to get more of the same responses that I got on other forums. They were super hostile.
I don't want to be viewed as some guy that is trying to get a parrot to pluck out all of its feathers out of stress. I've only had one guy help me out so far. Super friendly, described a hyacinth macaw that he experienced, and sent a video of it cracking open a macadamia nut as if it were a grape.
I just want opinions. Do I really need to start small with three parrots to select from, or am I perfectly capable of raising a red-tailed black cockatoo if I'm prepared?
My name's Josh, I'm a minor and live in Kentucky. I'm looking to get a parrot next summer, in 2022. It should be plenty of time.
I'll answer any questions you have to the best of my ability. Thanks for discussion in advance.
Last edited by a moderator: