Joined

4/14/20
Messages

244
... She Who Has Yet to be Named!
I posted this under Bird Boulevard already but felt it also belonged in the appropriate Linnie forum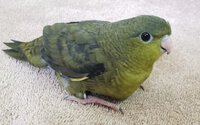 So this rounds out our flock at THREE (two PFLBs and this little Linnie) which I think is a nice, reasonable number
Hubby is convinced this is a very slippery slope and was reluctant to agree to add a third bird to our household but I think this little ball of feathers ticks a few boxes that the Lovebirds don't (I've always, always wanted a parrot that used it's feet for things other than just perching and until very recently, never knew Linnies were capable of this!).
Also, not having to purchase another cage (we already have one that's being underutilized) or new toys or different food made it a bit of an easier decision
The colleague at the store - also a Linnie owner - thought she was a female based on her black markings (thoughts, anyone?). She's still being handfed and transitioned over to pellets, so isn't ready to come home quite yet (and due to COVID restrictions, non-essential stores are closed so I haven't even been able to see her in person). But I'm so excited to meet her! Not excited about the impending quarantine period, but at least that's only temporary
Last edited: