Hello! I'm maddie, im new here and im sorry in advance for my english (not a native speaker)
I have a male indian ringneck, almost 2 years old. He started acting weird last weekend, he was constantly picking his left foot. I went to a vet in my town and he said nothing is wrong with him. Because of the COVID-19 state of emergency we are in, i was unable to go inside during the consult but the vet told me he took a sample from the skin (with a tape) and looked at the microscope, no mites, no nothing appeared. He recommended an anti-inflammatory medication for 10 days, which i didn't give to my bird, because the very next day he was no longer picking his foot and was doing fine.
It's been a week and my bird started acting weird again. I looked at his feet and i saw this: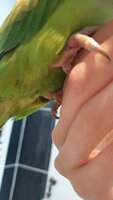 On his right food, the skin looks very dry but healthy (i see there is a part exposed but other than this its not yellow, doesnt have many layers), i dont see anything moving (mites, insects, etc); and on his left food is a little mark because he is picking his skin with his beak...
I googled and
Bumblefoot (Pododermatitis) is the closest thing that looks like whats happening to my bird, but im no expert and i would really appreciate your oppinion on this. If its bumblefoot, i see that Vitamin A, biotin, calcium and vitamin D3 could improve it, but are there other alternatives?

Thank you!