Rollerblading along the road
Avenue Spotlight Award
Joined

6/12/22
Messages

4,151
Location
Real Name

Meghan (she/her)
I think Isadora is finally done molting.
She's got a number of feathers though that have grown in and opened at the end, but the sheath is still covering half or more of the feather.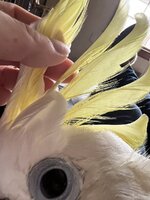 You can see it on one of her French fries there. DoI need to do anything to help with that or will it open up on its own?
To add, she gets a bath usually every 10-14 days.