Joined

7/27/18
Messages

63
As the title says, I'm trying to teach two lovebirds not to land on peoples' heads anymore.
I'm fostering two wonderful lovebirds, but they have quite a few rude habits. I've gotten them to step up without biting (most of the time), and it's been a while since they've lunged at my face, but the one thing I can't seem to deter is them flying straight at faces and taking control of a person's head. Rather than fighting the hand that tries to fetch them, they'll fly off, which is nice, except that they come right back.
It's adorable and I love them, but pooping in hair and getting tangled isn't exactly prime bonding time. Having them on shoulders is risky because they'll pinch/bite any inch of skin or ear they can reach, but I can't work on that anyways if I can't keep them off my head...
Any tips on how to go about this? They're both very headstrong and do not fear people.
Photo of the little evil doers.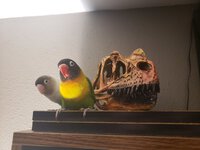 I've been dodging them like a scene from the Matrix, but it's getting harder as they've learned to circle back three times and even hover like hummingbirds if necessary...