❀♡ My birds are responsible for 99% of my typos ♡❀
Super Moderator
Celebirdy of the Month
Mayor of the Avenue
Avenue Spotlight Award
Avenue Concierge
Joined

1/8/18
Messages

26,916
Location
Some toys and swings come with chains, and while some birds never have any problems, others do.
Here is a super quick and easy way to cover the chains on toys, especially for those birds who like to climb up, to stop their toes/toenails getting trapped in the chains...
Here is Gíslis silly saucer. He has been holding on to the chain while playing. So I will cover it to help protect him,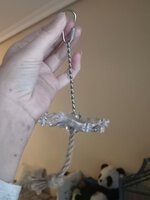 by threading beads on the chain,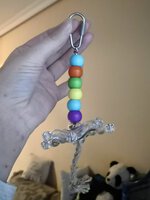 It even adds a little colour to the plain looking toy
Alternatives include, wrapping with vet wrap, or removing the chain and using something else instead to hold the toy up.
Feel free to post your own tips for anyone looking for toy/accessory safety ideas!