Cruising the avenue
Avenue Veteran
Mayor of the Avenue
Avenue Spotlight Award
Joined

4/14/14
Messages

14,929
Location
Real Name

laurie
Today I made very dense nutritionally birdie bread for Bebe. Here's the recipe:
You will need 2 birdie bento boxes from this recipe
Good morning, here's another great idea for real food for your feathered buddies. Bento Boxes with the following items in it: bean mixture- black beans, chickpeas, lentils, spelt, millet, chia; all cooked in slow cooker until chickpeas are soft,( they take the longest to cook). Steamed broccoli...
1/2 cup of spelt flour
1/2 cup flaxseed meal
3tablespoons hazelnut flour
1/2 cup of mixed flours ( kamut, oat, chia)
1 chia egg (3 teaspoons of chia and 3teaspoons of warm water allow to sit overnight in refrigerator)
1 1/2tablespoon of unrefined coconut oil
A scant 1/4teaspoon of baking soda
1tablespoon of Braggs ACV
1/4 cup of finely chopped broccoli
Ice cold water (ice and water)
Spices like cinnamon, ginger, cayenne, turmeric. Dehydrated, spinach, arugula, kale, parsley, basil.
The bento boxes I use were bean mixture and carrot mixtures, with adding 2-3 tablespoons of water to each box to moisten. Bake @ 350°
In large mixing bowl dump the bento boxes and chia egg. Beat until well blended. I sifted all the flour together, adding the baking soda. While beating add coconut oil, flour and ice water, 3 times, Beating well with each addition. Add ACV with last mixture this will activate the baking soda. Beat until smooth. In 9x9 inch brownie pan that is greased with coconut oil and a parchment paper lined, spoon in mixture, smoothing it out, top with a sprinkle of hemp hearts.
Bake at 350° until firm about 1 hour until firm cool in pan for 20 minutes. Then cool completely. This bread must be kept in refrigerator or frozen. Cut into quarters and slice thinly less than 1/4" thick. You can also bake a 2nd time like biscotti if it's too moist for your bird.
Fresh out of the oven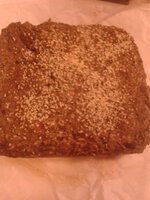 Hope your feathered friends love it.