Joined

5/23/19
Messages

89
Location
Real Name

Dan
Hello everyone,
I have a few questions/concerns about my CBC!
1. He won't eat vegetables. We've tried eating them with him, making chop and adding pellets and seeds to the veggies but he just won't budge! How can we get him to eat them?
2. He Doesn't play with toys a lot. He is scared of most of them and plays with a few but after a 10-second session, he gets bored! This is why even if we leave the house for 30 minutes he screams hen we get back because he is very bored. Any of you have a bird like this at home?
3. Since he gets very bird we have been thinking of getting him a buddy. Is this a good idea? We are undecided because on one side the sooner I introduce them the higher the chance of them liking each other but if I introduce them at such a young age they will bond and won't like hanging around humans anymore! What are your thoughts?
4. He has some black spots at the ends of his feathers! Is this because he doesn't eat vegetables?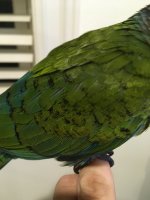 Thank you for the help