Checking out the neighborhood
Joined

9/14/21
Messages

2
Hi everyone! My boyfriend and I will be bringing this precious little guy home soon. He's ~5 months old and has quite the personality already.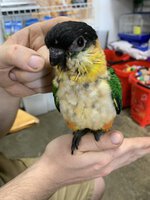 I grew up with various birds and have been obsessed with them my whole life. He'll be my boyfriend's first experience with being a parrot's pet, welp
(don't worry, I didn't pull a fast one on him, he's specifically been enamored with caiques and I made sure to drill it into him just how extra crazy they are, how much time and patience they'll need, and showed him how much damage they can do with a bite, and he still wanted to meet one in person. Had no luck with our search until we unexpectedly met this little guy and just fell in love with him).