Joined

8/9/22
Messages

13
Hi All,
We have posted on this forum before, but we're now again reaching out for help as we're running out of ideas and are being desperate. Please advise if this should be posted elsewhere. Any help is very, very much appreciated as we're running out of ideas/time.
Please help:
My husband and I love our little floof and we are out of ideas / cannot handle sleepless night watching our baby anymore. We have ruled out AG, a tumor seems unlikely given that nothing shows up on the xray, we were told Avian Herpesvirus doesn't present this way in conures, fungus/bacteria unlikely as there's no symptoms and normal white blood cell count, heavy metal toxicity unlikely, is currently being ruled out. What could this be? We simply don't understand as it comes and goes unpredictable: Apple seems perfectly healthy and fine for two months, suddenly he mutilates over night / goes lame in the other foot. In the past, after the mutilation, he just went back to normal for months at a time (hormones?). Thanks for any ideas/referrals/notes/observations. We need them badly. Details below
General Situation:
Our green-cheeked conure Apple (DNA sexed male) started mutilating his feet in July 2022. This would almost exclusively occur at night / right after waking up. We took him to 3 different vets since this event happened and got the following results:
In the first x-rays, the vets commented that they're seeing an enlargement of the gonad, couldn't pinpoint whether it was just enlarged from him being extremely hormonal the months leading up to this event, or if there could be a growth/tumor. The vets assumed that this enlargement was pressing on the sciatic nerve and would therefore cause a weird sensation in his feet - hence the mutilation on both feet. At that point, one of his feet also went lame for a couple minutes one day.
We changed up Apple's environment and made sure we wouldn't interact with him in any way that could stimulate his hormones further. We switched up his cage/toys/room and limited interaction to several hours a day as well as giving him enrichment to interact with. We followed up with treatment of three separate Lupron injections (as is indicated to control hormones / treat testicular cancer).The results confused us even more: Apple's hormones would generally seem to cool down after each injection, his behavior and mutilation did however not really correspond with the timing of the injections either. Another point worth mentioning is that he would regurgitate intensely at night and in the morning (on objects) -- the intensity of the regurgitation roughly corresponds with his hormone levels. We assumed it was a mix of the Lupron and our limited interaction with him.
Ever since then, he had his ups and down and mutilated every ~40 days. We decided to go with a hormone implant for a more permanent solution which seems to reduce his hormones and has him molting like crazy for the past two weeks. We were hopeful that we had finally found a way to address the issue as we went for about two months without mutilation -- until three days ago. Out of the blue (usually we see warning signs like irritated grooming during the day), Apple started mutilating again at night and gave himself two wounds on the left foot. Two days later, his right foot went lame for several minutes.
In our most recent Vet visit four days ago, we were told that there testicles do not look bigger, hence they do not suspect a mass. The vet gave an anti-inflammatory (Onsior) that is also used for AG (Avian Ganglioneuritis) which he assumed would help us get through this week until we get the results from heavy metal testing back (Jan 2nd), but it doesn't seem to help. Apple wakes up in the middle of the night and goes straight for his legs. If we don't interrupt him, he will chew bits off, specifically focused between the toes.
(I have read that lameness / toe mutilation can come from kidney issues, however there's nothing on the xray and his uric acid went down between first and second blood test in the summer. In the last visit, the vet mentioned that the pancreas was a little denser, but he said it could be nothing and that also didn't show up in the previous xrays.) We are confused.
Apple's Health:
In-between those frantic attacks on his feet, he appears perfectly healthy, has good/perfect poops, is active and alert, maintains stable weight since July (average of 79grams, muscular build).
Radiography shows increased volume in the gonad region
Blood Chemistry & CBC show no abnormalities except for slightly elevated uric acid consistent with testicular enlargement placing pressure on the kidney
Apple has been cleared for psittacosis and avian ganglioneuritis
He has wings clipped and is not roaming freely outside his cage without supervision. His cage/toys are all vetted. Therefore, we do not believe that the heavy metal test is going to come back positive. Will keep results posted here.

Medications:
We have tried different anti-inflammatory medications / pain killers. None of them seemed to make any noticeable difference.
Xray from July 2022 (can provide later ones if necessary, but there is not much change/slightly smaller gonad according to vets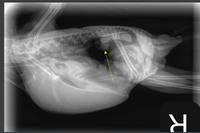 Mutilation: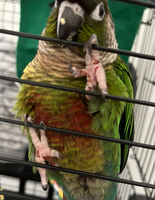 Thank you All. We appreciate the help.