Rescue Rep
Avenue Veteran
Mayor of the Avenue
Avenue Spotlight Award
Joined

3/2/10
Messages

4,275
Location
Real Name

Dianne
Every weekend I spend several hours preparing birdie food! I wash all veggies with an ACV and GSE mixture and rinse thouroughly and I make a fresh batch of birdie bread. A friend was visiting on Sunday when I was preparing this batch and she was amazed! She thought I should post pictures here..... I didn't get any pictures of the birdie bread but it was 2 9x13 pans!!!!

These pictures show their dried fruits, veggies and nuts each bag is one gallon and all of this will last around 2 weeks, then there are fresh veggies and each of these bags are 1 quart and this will last about 10 days.... in addition to this with each meal they each get a mini ear of corn and some sort of cooked whole wheat pasta,and they get a piece of homemade birdie bread with each meal.

I also give them grapes, watermelon, celery, swiss chard, kiwi, mangos, payapa, sweet potatoes, pumpkin, hard boiled eggs etc.... switch it up to make it interesting for them... .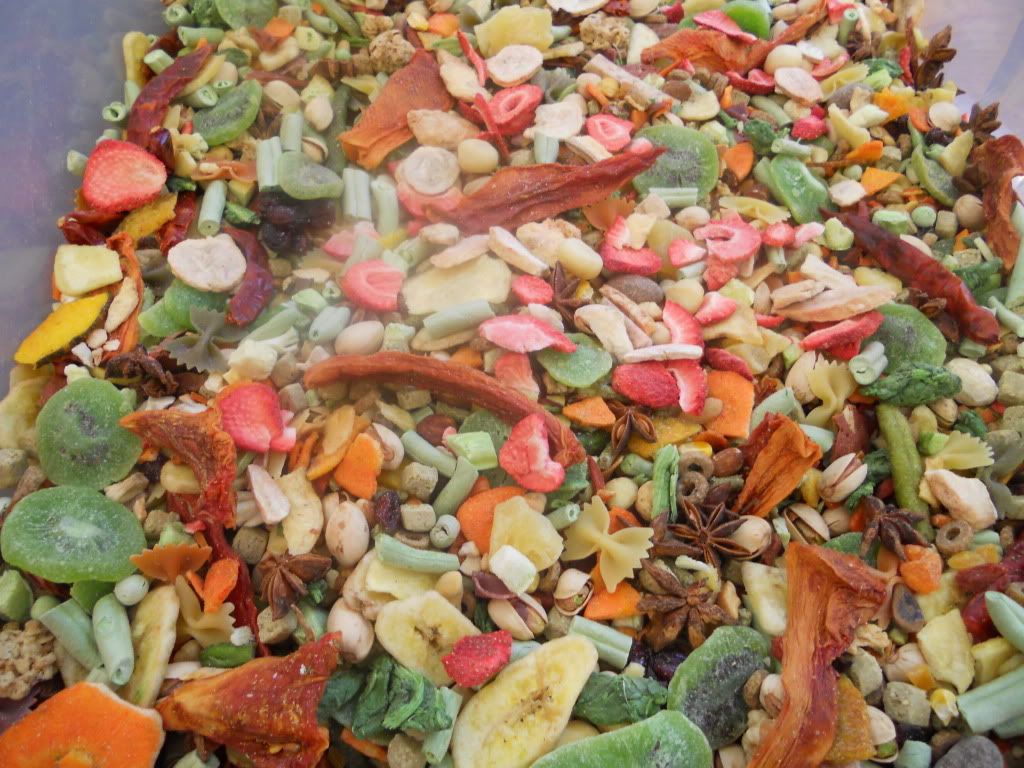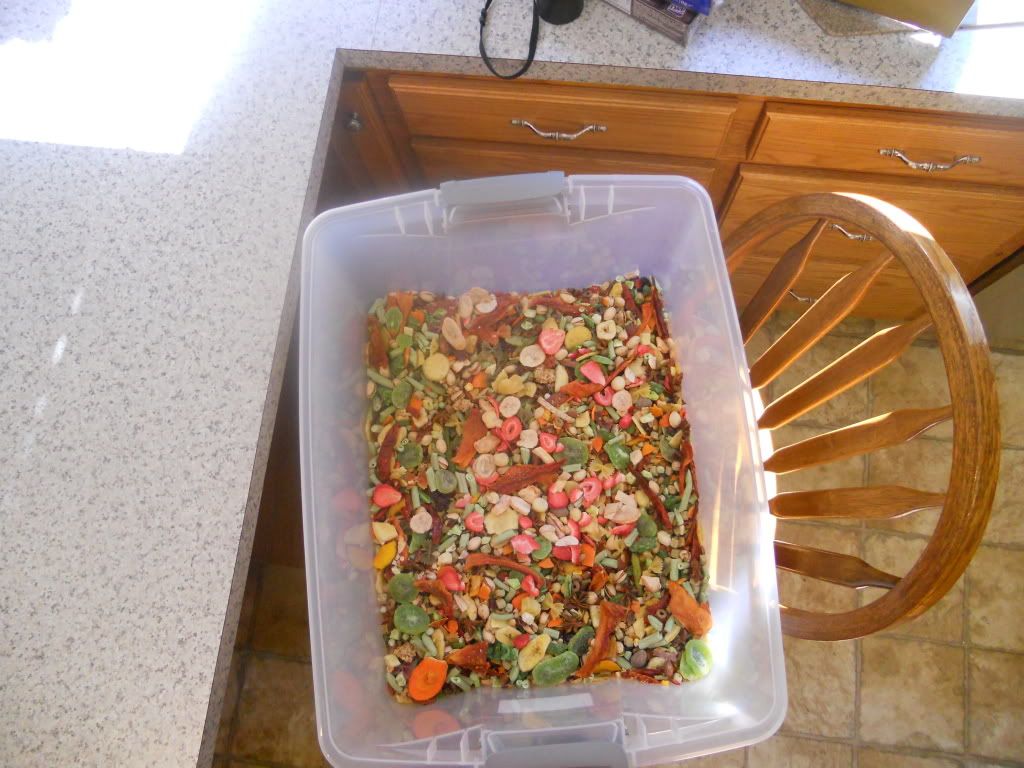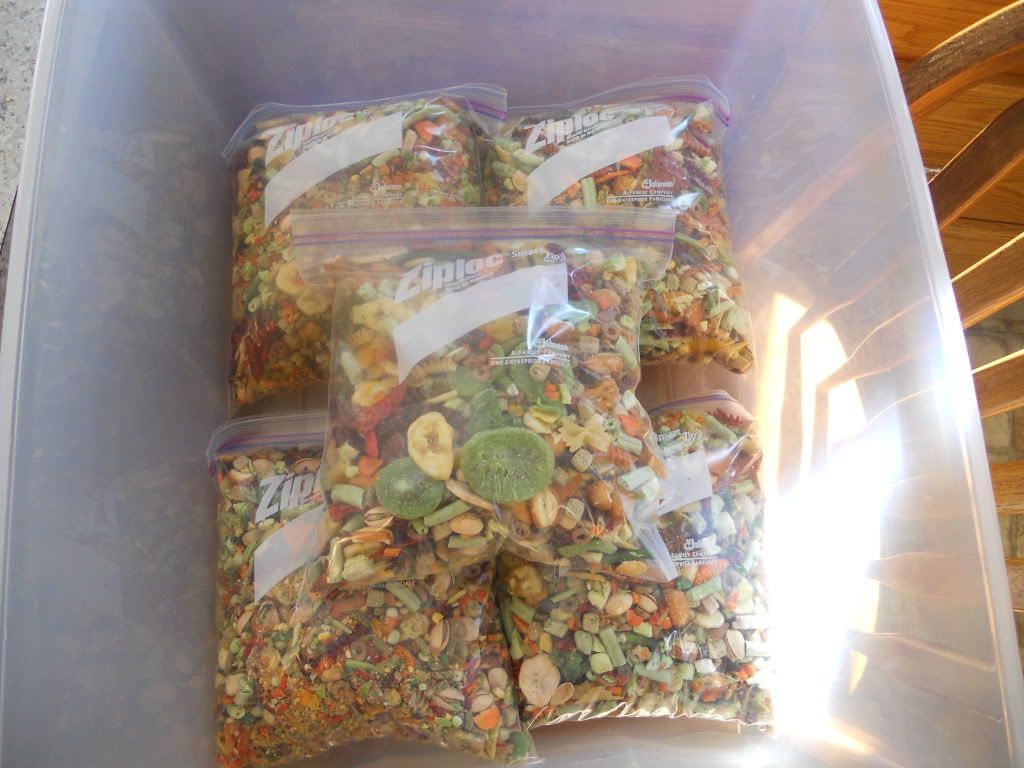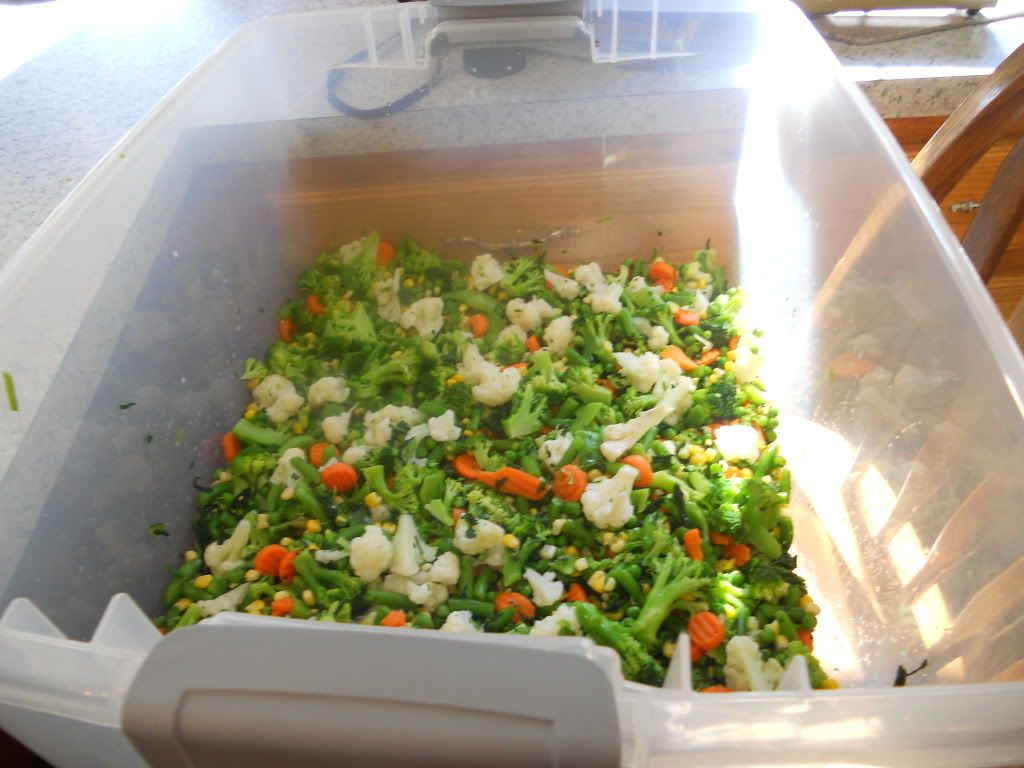 ETA... I updated the thread in post # 11, but I know sometimes it is hard to find updates so I copied and pasted it here:


It is colorful!!
I will try to answer everything here, but if I miss anything you want to know just let me know I am happy to share!!!!

The dried mix is a combination of dried fruits, veggies and nuts.

I start with a mix of a couple of Goldenfeast blends (no peanut formulas only) and a variety of dried fruits and veggies, from MSBS (

www.mysafebirdstore.com

), Just Tomatoes (

www.justtomatoes.com

) and Nuts online (

www.nutsonline.com

)

I add in dry pasta.... mine love the "wacky" pasta with different shapes and made out of vegetables (Walmart has this!) and I add a few pine nuts, stacchios, no shell hazelnuts and almonds, goji berries, and cranberries....

****Be very careful when you buy you dried fruits and veggies....they cannot have sulfur dioxide or other unsafe additives***(Sulfur dioxide is a big one used in some dried fruits and veggies to protect their color and flavor... it is very not healthy for our birds!!!!)
Most of the dried pre-packaged fruits and veggies you see in the grocery store have sulfur dioxide. Also... lots of them have sugar and or salt... not acceptable either.
The "Just Tomatoes" products are awesome!
A good deal of this is organic and my goal is for all Organic soon!!!!! I bought a dehydrator but it will be awhile before I can dry enough food myself to feed these guys!!!!!

The fresh veggies are my version of "Mash" or "Chop" I call it "Macaw Mash" since they like big chunky food....
This is mostly organic from the Organic produce sections of a few of our grocery stores so I have good variety....I also use some organic frozen veggies....

I do this part in small batches (some of you may remember that I found glass in the veggies one time.... my whole big bucket had to be thrown away because I didn't know where it came from so I started doing this in small batches just in case there is ever a problem again so I won't lose my whole deal!):

Everything is rinsed then soaked in a solution of distilled water, Apple cider vinegar (I only use Bragg's with the mother in it) (

Bragg Live Foods, Bragg Apple Cider Vinegar, Bragg Liquid Aminos,Systemic Enzymes, Bragg Live Organic Food Products, Patricia Bragg, Paul Bragg, Bragg Organic Olive Oil, Bragg Salad Dressings, Bragg Seasonings, Bragg Health Products

) and GSE (

NutriBiotic

) I use so much around here that I buy the biggest bottle they have!!!!!!!
I swirl the veggies around to be sure they all get cleaned well... I soak for at least 20 minutes then I rinse thoroughly and throw it in the big bucket and mix it all well!!!!! Then I divide it into the Quart size bags, label each bag... then throw it in the freezer... I use one of these bags per day so every night I take a bag out and put it in the freezer to thaw.... I keep one bag out for the birdie bread.....

Now the Birdie bread.... I started making birdie bread when I got Anna because she would not touch a veggie!!!!!

I don't really follow a "recipe" for Birdie bread, I use a mixer and throw in whatever I feel like....but the constant basic ingredients I use are:
* Organic canned pumpkin (2 cans about 15 ounces),
* Gluten Free Organic Corn Meal (course texture) and some organic flours

(http://www.bobsredmill.)


* 3/4 of that bag of veggies blended into a fine mash
* The other 1/4 f the bag I just throw in big, they like it chunky....
* 2 tablespoons of Red Palm Oil
* 1/2 teaspoon of Aluminum free baking powder
* 2 Tablespoons of Wheat Germ
* 1 Tablespoon of Flax seed
* 3 Organic Eggs (I never throw the shell in as some recipes call for... advised by my AV not to)
* 2 or 3 Organic Bananas
* Organic cinnamon or cayenne depending on what flavor I feel like making it!

Add whatever else you want to add.... you want it to be sort of stiff and on the dry side.... if it is too wet just add some more corn meal, if it is too dry I add organic coconut water but you can use most juices, prefer no added sugar juices

I usually fill 2 9x13 baking pans about 1/2 deep and bake at 350 for around an hour..... I used to add sunflower seeds to the tip before baking it to entice Anna.... she looks forward to her birdie bread now! I only use glass or stoneware pans since I burn things and I read where somebody had overcooked something in a metal pan and had to toss it because when she started scraping the stuff out metal came off the metal pan into the bird's food
When finished baking I immediately take it out out of the pans and put it on cake cooling racks (if you don't it gets damp and turns mushy, from condensation, I guess??) Once it's cool, I cut it into little bricks about 1/2 inch wide by a couple of inches long and portion it out into quart size bags, label and freeze......this lasts about a week for us!!!!!!!!



Last edited: