Rollerblading along the road
Celebirdy of the Month
Mayor of the Avenue
Avenue Spotlight Award
Joined

7/23/20
Messages

2,889
Real Name

Call me AB
I've had several second hand aviaries for a few months now. I am ever so slowly fixing them up, I am looking for advice and also want to make a progress thread for anyone interested. I will be focusing on one at a time.
This is the first one. (All stuff has since been cleared out and I've done basic cleaning, disinfecting is still to come)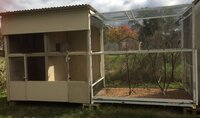 The biggest issue I've run into right now is the rust. I've tossed up whether a fresh coat of paint will help or not? Any suggestions on dealing with that would be greatly appreciated!
These areas I plan to work around by: Everywhere marked by blue will be covered up (I most likely will be wrapping in sisal and replacing as needed, some areas will be blocked off by wood or something). The red area (the roof, on both halves of the enclosed part) I think I am going to create a "false roof" of sorts and just block off that whole area.