Ripping up the road
Administrator
Avenue Veteran
Celebirdy of the Month
Mayor of the Avenue
Avenue Spotlight Award
Joined

4/15/10
Messages

49,286
Real Name

Matthew
Our "Mayor of the Avenue" award is presented to a member who exhibits the qualities that distinguish them to be an upstanding credit to the Avenue, a loving, informed, conscientious and caring bird parront and an all around good neighbor.
I am happy to announce that Kiwi's Dad is February's Mayor of the Month.
I enjoyed reading your interview, and am sure that everyone else will as well!

1. What kind of birds do you have (age, species and names)?
Kiwi is 2 years old and she's a whiteface pearl cockatiel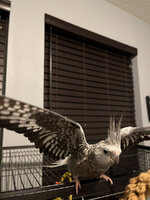 Banana is also 2 and she's a Rosy Bourke parakeet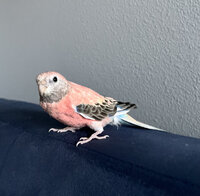 2. What got you interested in birds?
I've always had a love for animals. I remember going to a pet shop and meeting this really cute galah so I went home and researched all about galahs. While researching I fell down a rabbit hole of all the different parrot species and I've been in love ever since.
3. What have your birds brought to your life?
Birds have brought me so much happiness, excitement, and patience. The joy I get when I see them is un-describable. I don't know how my life would be without birds.
4. What have you learned from sharing your life with your birds?
I have learned so much from my birds but I think the most important is patience. Everything must be taken at their pace and if you mess up they'll let you know .
5. What's one birdie memory that will stay with you forever?
A birdie memory that will stay with me forever is when I first saw coco (My first bird) at the pet shop and he wouldn't stop cuddling with me
6. Where is your bird's main living area?
Kiwi and Banana live in the spare bedroom
7. Did you change things in your home to accommodate your birds and if so what kinds of things did you change?
Yes, I had to get rid of air fresheners, stop using Febreze, throw out nonstick pans, and stop using candles.
8. Are you involved in any kind of bird-related group or activities?
Nope, only AA!
9. What is the one luxury item you would love to have for your bird(s)?
I'd love to have a huge custom play stand.
10. Is there any bird that you dream of owning and if so why?
I would love a Golden Conure
. They seem so sweet and calm but I've only seen videos.
11. Describe a typical day with you at home with your birds.
I'll usually get up at 8 and start off by opening the shades and removing their blankets. For breakfast they have a little bit of egg and I'll eat my cereal. After we finish eating I'll change their water and serve them their chop and pellets. Around 11 I'll take them out so they can get some sunlight and fresh air and I'll leave them out for 20min and bring them back. For the most of the day I'll have them out while I'm doing chores around the house and I'll work with kiwi on some clicker training. At around 7pm they'll go back in their cages for the night
(This is on the weekends)
12. What have you learned about owning birds that you would like to share?
Every bird is different and no bird is cheap. I see way to many people comparing there birds to the one at the pet shop that can roll over. Another thing is see is people saying "little birds" are cheap, which is
13. If you knew then what you know now about birds, what would you do differently?
I would have started off with a bigger cage and better toys. I would've saved money and the birds would have been happier.
14. What other hobbies do you have?
I enjoy playing video games especially on my switch. I really enjoy playing animal crossing
15. Anything else you would like to share?
You don't own birds
they own you
Last edited: