Ripping up the road
Administrator
Avenue Veteran
Celebirdy of the Month
Mayor of the Avenue
Avenue Spotlight Award
Joined

4/15/10
Messages

48,006
Real Name

Matthew
Our "Mayor of the Avenue" award is presented to a member who exhibits the qualities that distinguish them to be an upstanding credit to the Avenue, a loving, informed, conscientious and caring bird parront and an all around good neighbor.

I am happy to announce that Destiny is February's Mayor of the Month.
I enjoyed reading your interview, and am sure that everyone else will as well!

1. What kind of birds do you have (age, species and names)?

Let's see ... I have a lot of birds. *deep breath*

In my aviary, I have fourteen budgies (Kiwi, Cucumber, Skye, Snowball, Big Bertha, Misty, Lemondrop, Goldie, Sparkle, Misty, Opal, June, Dip, and Dot), three Lady Gouldian finches (Crimson, Jasper, and Sterling), and two button quail (Geo and Terra). I also have a free-range flock of roughly thirty chickens, three muscovy ducks, three ancona ducks, three royal palm turkeys, and two peafowl (Indigo and Jade).

2. What got you interested in birds?

I have loved animals of all kinds from an early age. My parents were very supportive and helped me to learn about and care for a wide variety of pets through out my childhood, including zebra finches and society finches. I loved watching the birds and listening to their happy songs, but I dreamed of giving them more space and freedom. So I set out to construct an aviary in my backyard using a steel dog kennel as the frame. It was not perfect - I didn't really know what I was doing. I was just a young kid with a limited budget, very little technical skill, and a lot of determination. The finch aviary only lasted until the end of the summer before the tarp roof collapsed from too much rain and I had to evacuate the finches back to their flight cage in the house. Miraculously, none of the birds were injured or escaped during the collapse. I think the finches enjoyed their time in the aviary. The roof wasn't salvageable, so the failed aviary was converted into a spacious catio for our indoor cats to enjoy.

When I was older, I decided that the next time I had pet birds, I would build them a proper aviary. And last year, I finally did just that.

3. What have your birds brought to your life?

One of the most important things that they have brought into my life is an appreciation FOR life, both great and small. It is easy to forget that we share this world with so many unique and amazing creatures who think and feel and experience everything that we do in their own way.

I love watching my parakeets work up the courage to check out a new toy or vegetable, even though it is scary and new. The bravery of these little birds completely floors me. They are so full of spunk and curiosity. I love spending time with my chickens and listening to my turkeys making "happy turkey" noises while they pick through our kitchen scraps. I love seeing my peacock spread his tail feathers and show off for all the girls in the yard ... while they completely ignore his grandiose display, totally unimpressed. And I love how my ducks get so excited when I refresh their pools with fresh water each day and the silly way that they all come running and immediately set about turning them muddy again.

My birds are quirky, elegant, fiesty, and comical. I love them all.

4. What have you learned from sharing your life with your birds?

I feel blessed to have known so many amazing animals over the years and I have learned something new from each of them.

It is hard to narrow it down to just one or two things, but above all, I think keeping birds has taught me that you can never have too much patience. The best relationships are built on a solid foundation mutual trust and respect. That is true in life and it is especially true for a life with birds.

5. What's one birdie memory that will stay with you forever?

This one: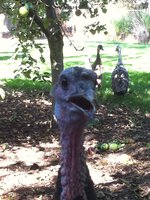 My pet turkey always knew how to steal the lime-light. Why was I taking pictures of silly runner ducks when she was RIGHT HERE?!

6. Where is your birds main living area?

My chickens and other poultry are free-range, but they mostly hang out in the aptly named "chicken area". This is a fenced in area where they have food, shelter, water, and protection from predators. However, the fence is only four feet high. My peacocks roost sixty feet up in the trees and the turkeys, muscovy ducks, and most of the lighter chickens are capable of true flight, so only the fattest chickens are really "contained" by the fence. It is there to keep other things out (like our dogs), rather than to keep the birds inside.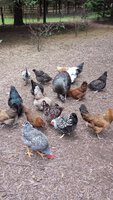 My smaller birds live in a large aviary that I built from an unused greenhouse. It provides a good compromise between freedom and protection, allowing my parakeets, finches, and quail to fly and play all day while I am at work. Since I have both cats and dogs in the house, an aviary or dedicated bird room was the best possible option.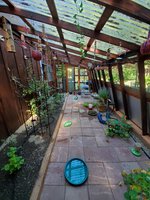 7. Did you change things in your home to accommodate your birds and if so what kinds of things did you change?

Well, I build an entire aviary for the birds ... so that's something, right?


The majority of my birds are outside, so most of my accommodations revolve around scheduling my time to provide care and maintenence for all the birds.

8. Are you involved in any kind of bird related group or activities?

Pretty much just this forum. We gather and sell eggs from our turkeys, ducks, quail, and chickens. Other than that, I just spend time in my aviary to relax and enjoy the birdsong.

9. What is the one luxury item you would love to have for your bird(s)?

Is it weird that I want an even bigger aviary?


Because I would totally love another aviary. Even bigger than my current set-up. I sometimes look at my garden and think about the logistics of mounting aviary netting over the 10 foot tall deer fencing. It would require additional support poles and I would need to provide proper shelter for the birds. Perhaps an insulated and heated shed in one corner of the garden .... hmmm ...

I have given this far too much thought. I really don't need a 40' aviary. Honestly, I really don't.

But a girl can dream ....

10. Is there any bird that you dream of owning and if so why?

I want a pair of zebra doves. I saw them when I visited Hawaii a few years ago and I fell in love. They are so adorable, tiny, and striped. Some day, I will get them. I am sure of it.

I am also interested in Bourke's parakeets. They are such cool little parrots and I really like their natural coloring. A lady who breeds them lives near me and I am very tempted to get a pair someday. However, I am not sure that the quieter Bourke's would be able to handle all my rowdy budgies, so I am trying to resist the urge.

11. Describe a typical day with you at home with your birds.

I start off the day by tending to my two indoor parakeets, Lemondrop and Goldie. Lemondrop is a special needs bird - she can't fly properly. I had to remove her from the aviary because she was falling too much and getting hurt. I brought Goldie inside with her as a companion because Lemondrop is extremely hand-shy and terrified of human interaction. Goldie is more friendly and has helped Lemondrop learn to trust a little, but progress is slow.

Anyways, I start my day by checking on my yellow girls, getting them fresh pellets, water, and a little seed mix. Then I head downstairs to prep veggies or chop for the main aviary. I bring the fresh food to the aviary and then I go feed the chickens and goats. I get ready for work and on my way out the door, I head back to the aviary to give the birds some seed and gather up any uneaten veggies. The chickens get whatever the parakeets don't like.

When I get home in the evening, I go out and gather eggs, check on the goats, and hang out in the aviary for a bit, if it is still light out. On the weekend, I clean the aviary, clean the litterboxes, make new fruitfly cultures for my poison dart frogs, and other totally normal chores for normal people.

12. What have you learned about owning birds that you would like to share?

I have learned that parakeets are just like potato chips. It's hard to have just one!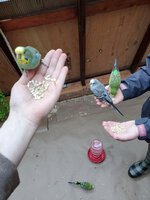 And also that when a half-tame parakeet lands on your hand, you feel EXACTLY like a Disney princess.
And it is awesome!

13. If you knew then what you know now about birds, what would you do differently?

I bet I could have built a much better aviary for my finches. Preferably one that had a solid roof.

14. What other hobbies do you have?

My animals are my main hobby as you might have guessed, but I also enjoy reading fantasy novels, studying Japanese, and playing computer games. I have also recently become greatly interested in acrylic pour painting. It is an abstract style that involves allowing paint to flow and move across the canvas in interesting ways. I find it very relaxing to create pour paintings.

This is one of my favorites: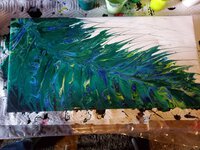 It reminds me of a peacock feather.

15. Anything else you would like to share?

Just my thanks to this community for being so welcoming and providing help to everyone and their birds. You guys are incredible. Keep up the good work!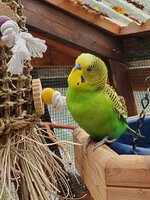 Kiwi thinks you guys are better than millet. And you know how much he loves his millets.