ASK ME FOR PICTURES OF MY MACAW!
Super Moderator
Avenue Veteran
Celebirdy of the Month
Mayor of the Avenue
Avenue Spotlight Award
Joined

4/28/18
Messages

24,023
Location
Real Name

Shez
October 2020 Feathered Estates
Highlight


I am very pleased to announce this
month's showcased member
fashionfobie
​
1~ What kind of birds do you have and how many birds did you design your setup for?
I have 11 birds: 2 parrotlets, 2 zebra finches, 1 plumhead parrot, 3 cayuga ducks and 3 chickens.
I have three different groups of birds. The finches have their own enclosure, the parrots have the bulk of the house and then the ducks and chickens share an outdoor enclosure.
There is a play-stand that is currently in my office/ bird room, but sometimes the stand is in the living room. It depends on which room I am spending most of my time in. My partner also has a small play-stand on his desk that is for Picard only. Picard's special play space. Neptune and Pi do well out together.
They are under a mango tree. It is an 18 sqm enclosure. They are all excited to be let out for afternoon foraging. The duck pond is a 1.5 x 1 m tub, we attached a drain and a hose to it. It makes it easy to drain every night and we refill it each morning. They are mess masters.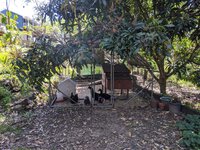 Zippy and Peppy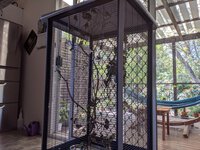 The bird room/ my office. I keep their travel cases on display so they are less fearful of them. Pi even sits in his sometimes since I leave it in the open position.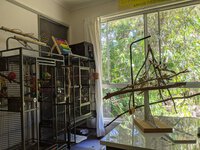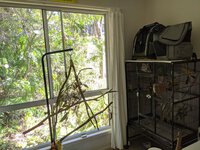 Picard's secret little world!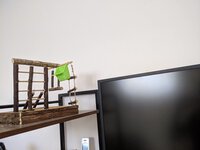 2~ Is your setup for a handicapped bird?
I do not have a bird that requires a unique set up. Zippy had a broken wing in his past, before I adopted him. He can fly and though a little slowly, he doesn't require a special set up. My hen Starlight has scoliosis and for her I can't use elevated dishes. She can't bend her neck properly to eat at her waist height or above. This isn't a big adjustment though, I use deep cake sheets for feed and shell grit. She can manage from them. Though these two a special little gems, they do not require major design adjustments.
3~ Are there any budgeting tips you discovered while doing your setup?
Bird safe branches are easy for me to source. The trees on my lot provide me with all I could use, fresh leaves too! It is free.
Though for anyone reading this, remember to check your area closely. Don't collect from areas that spray pesticides and check your species. I find this source very helpful
:Bird; Birds: Safe, Toxic Trees, Woods. Safe Tree Wood. Parrots. Parrot cages.
Get creative add stuff:Leaves, bark, or edible flowers!
Some examples of the changing leaves. The birds love natural stuff to hide in, rip up and generally land on.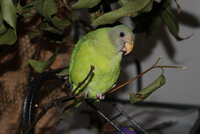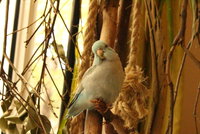 4~ Is your setup changeable or stationary and do you add or make changes continually or do things stay primarily as is?
Things change, though normally the main structure of the play-stand stays the same until we make another.
5~ Where did you find your materials if you made it yourself or where did you purchase the setup and do you have favorite places to purchase safe toys and/or supplies that you find reliable?
Most materials are from my lot.
The sisal rope my partner used to lash the larger pieces of wood is from a craft store. -Buy untreated sisal
6~ Do you have a favorite item that you bought for your setup?
We did buy Picard's set up as a kit. It is a cute little stand and has bark on so that was handy.
7~ If you made any DIY toys what is your bird(s) favorite and were there any failures?
I buy most of my coloured wooden block toys. I don't trust myself to make them. DIY is either retying new things to the destroyed bought toy or I make little foraging toys. The most popular is a ball of tracing paper with seeds inside. Pi always prefers eating seed out of a toy before he bothers with his bowl.
Failures, humm anything that keeps a bird busy is a win. However I have made very detailed toilet paper roll foraging toys and the birds weren't super into it. I hand them a ball of paper and it is much more fun. So I suppose a failure is spending too much time making something when it can be done quick and give them bird equal, or more, fun!
Pi sharing an example of a trace paper toy.
It is architectural trace, it is on a roll. It isn't the cheapest but I use it for work too. It can be found in yellow or white at art stores.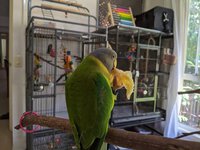 8~ Did you incorporate into your setup any foraging toys and how did your bird(s) take to them and was age or inactivity a factor?
I have two bought puzzle foraging games, the plastic type. Pi is the only bird who can manage them. He gets a kick out of them for the first day but gets bored quickly with the repetitive nature of them. So I rotate them out and don't give it to him often in an attempt to keep it interesting.
I started my birds of foraging toys when they first joined me.
9~ What difficulties did you encounter, if any, and how did you remedy them?
Picard matured into a very territorial guy. He pretty much solely wants to spend time with my partner. This is why he is the only bird who gets bedroom privileges and has a little play stand in there.
10~ What do you like least about your set up (if anything)?
I wish my cages weren't black. It is so sad looking. I went for the biggest I could get that would suit a parrotlet, each bird has their own cage, but the only colour in Australia was black.
11~ What do you like most about your setup?
I share my bird room. My desk/ computer and work are all done in the bird room. So I am always around them. I have an L-Shaped desk and I sit so I can look at the birds and look out the window.
12~ Did your bird(s) take to the setup right away or did they approach it tentatively needing time to adjust and do you feel their age was a factor?
They were easy adapters. When the parrots were joining our home we had premade our first play-stand and table top perch. So these types of objects have been part of their world here from the beginning.
13~ Any future renovations planned
The Dream is probably a few years away, when I own a house and I can actually do major changes. At the moment I rent the house so I can't do everything I would like.
This year we want to change the finches enclosure. I am really starting to hate the one they are in. Taller than wide and hard to service! We are going, to hopefully by the close of this year, have something much nicer for them.
Last edited: