ASK ME FOR PICTURES OF MY MACAW!
Super Moderator
Avenue Veteran
Celebirdy of the Month
Mayor of the Avenue
Avenue Spotlight Award
Joined

4/28/18
Messages

24,014
Location
Real Name

Shez
November 2020 Feathered Estates
Highlight

I am very pleased to announce this
month's showcased member
Ripshod
​
1~ What kind of birds do you have and how many birds did you design your setup for?
Right now, and for the foreseeable future I have 4 budgies, 2 male and 2 female.
I used to foster rescue and respite birds so the setup is designed for maximum flexibility. I needed the option to house anything up to 8 budgies or 4 tiels and wanted a huge cage that could be split, to give me a variety of options.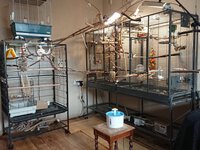 2~ Is your setup for a handicapped bird?
While I have looked after a few special birds my decision was to keep alterations to only what was necessary and to treat the birds as normal birds. A few additions I did make include a few platforms which every bird can enjoy.
3~ Are there any budgeting tips you discovered while doing your setup?
When looking for a new cage look closely at all the alternatives. While 2 cages may look identical the difference in price often reflects in a difference in quality. The $150 cage may need replacing after a couple of years but the $200 alternative may last 4 or 5.
Another favourite tip of mine is to not waste the dowel perches. Reshape them with a knife or a box cutter, sand the sharp edges down then wrap them in vet wrap.
4~ Is your setup changeable or stationary and do you add or make changes continually or do things stay primarily as is?
It's both. When I first set up these cages I wasn't happy. I've made loads of layout changes and still wasn't satisfied. It's only in the last year I've left it where it is now. It looks good, it's easy to clean around, and most importantly my flock is happy. I don't like moving perches around much. If I do it's only an inch every now and then. The familiarity makes it easier for the birds to move around - perches are where they were yesterday - so they can move instinctively.
Other than favourite toys everything else gets moved around regularly.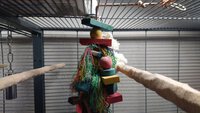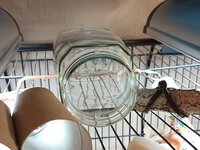 5~ Where did you find your materials if you made it yourself or where did you purchase the setup and do you have favorite places to purchase safe toys and/or supplies that you find reliable?
The only things I've added that weren't bought are a couple of Ash branches from a tree at the back of my block. I do recycle toy parts into new toys but that's about it. I know, I'm lazy.
6~ Do you have a favorite item that you bought for your setup?
The lights. I originally bought them based on hype, but I don't regret the purchase. They are in use everyday with 'normal' domestic daylight lamps in them. They really brighten the whole corner and keep the birds active. They made a huge difference the first day I used them so it makes sense that I should continue with them.
7~ If you made any DIY toys what is your bird(s) favorite and were there any failures?
I'm lazy. I don't really make them much but what I do make is always popular. I think this is down to my excessive use of cardboard.
8~ Did you incorporate into your setup any foraging toys and how did your bird(s) take to them and was age or inactivity a factor?
I haven't felt the need to introduce much foraging yet. Every now and then I'll wrap up a few pieces of almond in bun cases and stash them places but there's only Angel who will look for them. She loves ripping paper and cardboard so I'll usually hide one inside her egg box or inside a toilet roll tube. She'll find one, eat it, then carry on ripping cardboard.
9~ What difficulties did you encounter, if any, and how did you remedy them?
Cleaning the main cage. The doors aren't that large and I'm no longer young and flexible. The doors are just too small for me to get in for a thorough clean. All the perches attached to the front of the cage make it almost impossible to remove the fronts. So once a month I'll move the cage away from the wall and remove the backs (4screws per side).
10~ What do you like least about your set up (if anything)?
I think I can safely say nothing. While it's still a task to take care of it all my daily tasks can be done from outside the cages without disturbing everyone.
11~ What do you like most about your setup?
I like that the budgies like it. That's what we all want isn't it?
12~ Did your bird(s) take to the setup right away or did they approach it tentatively needing time to adjust and do you feel their age was a factor?
All the new birds take to it straight away. I put it down to the high branches giving them a safe place to land and start their new adventure.
13~ Any future renovations planned?
Nothing planned, but I'm always looking to see if there's anything I can change to encourage the birds to use another area. Maybe I'll clip a shower curtain to the back of the main cage, to protect the wall. And maybe a complete layout change for the play area (The Sid and Buddy Memorial Park).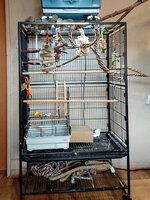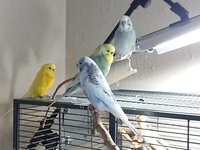 Last edited: