Ri-DQ-lously crazy 4 TAGs!
Avenue Veteran
Celebirdy of the Month
Mayor of the Avenue
Avenue Spotlight Award
Joined

11/21/11
Messages

19,311
Location
Real Name

Jennifer
March 2018 Feathered Estates Highlight
​
​
I am very pleased to announce this month's showcased member
@Peachfaced (Sadie)
​
:congratsbig:


Bedroom Setup
​
1~ What kind of birds do you have and how many birds did you design your setup for?

I have a Peachfaced Lovebird and a Green Cheeked Conure. I started off just designing for Sherbie (PFLB) but once I adopted Rupert (GCC), things had to be arranged much differently.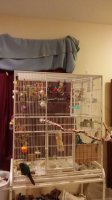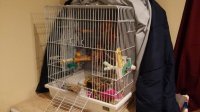 Sherbie talks to her "babies"...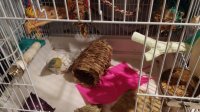 2~ Is your setup for a handicapped bird?

No, but everything was made to be more accessible and climb-friendly initially since Rupert was clipped and very nervous when I got him.

3~ Are there any budgeting tips you discovered while doing your setup?

Sign up for newsletters to bird stores before you buy; I like to wait for a sale or deal if they offer them, whenever possible. If you feel like you can make it a DIY project for less money, then go for it! Remember, it doesn't have to be pretty to be appealing to a bird.


4~ Is your setup changeable or stationary and do you add or make changes continually or do things stay primarily as is?

My setup doesn't go through major changes very often. I have to do smaller parts at a time. Rupert is scared of new things, especially new things in his cage. Sherbie is much more brazen, so I can pretty much change things whenever for her.

5~ Where did you find your materials if you made it yourself or where did you purchase the setup and do you have favorite places to purchase safe toys and/or supplies that you find reliable?

Our vendors are amazing. You can't go wrong with shopping "local", and I feel very confident that these toys are safe, because most of them have animals of their own and they base their designs around being safe and fun.

6~ Do you have a favorite item that you bought for your setup?

I've ordered several play gyms before at various places, but the most successful one was from okpetstuff on Etsy: hand made bird toys and play gyms by o. k. petstuff by okpetstuff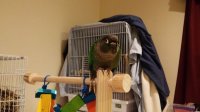 7~ If you made any DIY toys what is your bird(s) favorite and were there any failures?

I've had lots of failures, particularly when I was a new bird owner. You have to keep at it, and watch your birds play; really look at what parts they enjoy and how they play with them. Some of my most successful toys have foraging elements.

8~ Did you incorporate into your setup any foraging toys and how did your bird(s) take to them and was age or inactivity a factor?

Most definitely! Usually, Sherbie will tackle the new toy. She loves foraging toys. With Rupert, I have to take things slow and bribe him to venture closer or to try out the toy. Once he realizes it's not a bird-eating-monster, he enjoys them, and will seek them out.

Foraging basket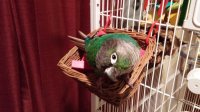 Easy forager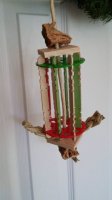 9~ What difficulties did you encounter, if any, and how did you remedy them?

Space is definitely an issue and continues to be. I am stuck with the furniture I have, and it's bulky. I can't get rid of it or put it in storage, so the cages and play area are in less than ideal spots. There isn't much I can do at this point, but the birds don't seem to mind terribly.

10~ What do you like least about your setup (if anything)?

The lack of space really puts a damper on things.

11~ What do you like most about your setup?

Everything is readily accessible.

12~ Did your bird(s) take to the setup right away or did they approach it tentatively needing time to adjust and do you feel their age was a factor?

Sherbie voiced her displeasure at first, but within a day was just fine. Rupert took more time to get used to things, but everything was new to him, so I'm not surprised.

13~ Any future renovations planned?
I would love to get rid of the furniture. It would really make it easier to maneuver, and I could add more fun things.