Ri-DQ-lously crazy 4 TAGs!
Avenue Veteran
Celebirdy of the Month
Mayor of the Avenue
Avenue Spotlight Award
Joined

11/21/11
Messages

19,311
Location
Real Name

Jennifer
March 2018 Feathered Estates Highlight

I am very pleased to announce this month's showcased member
@Parakeet88
:congratsbig:
This is a set up for a single, small bird, in a small space, in my living room.
This is pretty much my entire living room....it's mostly bird space lol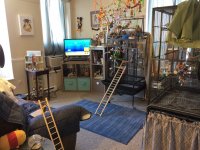 ​
1~ What kind of birds do you have and how many birds did you design your setup for?
I have five birds (two bourkes, two parakeets and a GCC) but the set up is for Ben, my turquois green cheeked conure.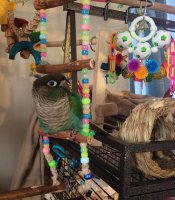 2~ Is your setup for a handicapped bird?
Nope
3~ Are there any budgeting tips you discovered while doing your setup?
I don't have any specific budgeting tips. I find some good deals at my safe bird store. I slowly accumulated a hoard of toys over time so I guess that's one way to do it. You don't need to buy everything at once, just spend a little at a time or add on items for free shipping.
4~ Is your setup changeable or stationary and do you add or make changes continually or do things stay primarily as is?
It is changeable and I rearrange it all the time. There are still toys and areas that Ben doesn't use as much so I'm trying to arrange the set up so that he'll get more out of it. The large net stays in place but anything else can be easily moved.
5~ Where did you find your materials if you made it yourself or where did you purchase the setup and do you have favorite places to purchase safe toys and/or supplies that you find reliable?
I've played around with making my own toys but I haven't had time lately. I got the net for a great price at my safe bird store. We have a lot of toys from Oliver's Garden, Perches for Change, and HootnHoller Bird Toys. I love all of our vendors here! I'm kind of sad that some toys are still in the mail so I couldn't show them here. We're waiting on some new toys from OG and the new play gym from tweetypies!

Ben loves to snuggle with his crab from Oliver's Garden but I haven't had much luck catching him in the act...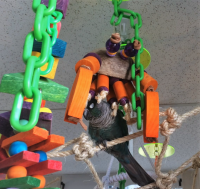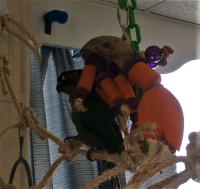 And he loves hanging off his toys from Perches for Change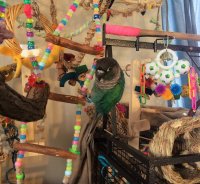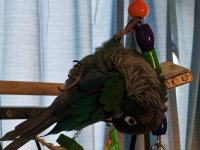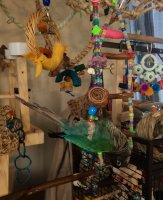 I've already seen him picking at his new toys from HootnHoller too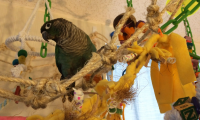 6~ Do you have a favorite item that you bought for your setup?
Well the large net is the base for the whole set up so of course that is a favorite and Ben loves his orbit swing so I guess those are our favorites.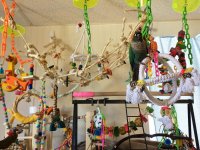 7~ If you made any DIY toys what is your bird(s) favorite and were there any failures?
I haven't had much time to make my own toys but Ben will play with just about anything.
8~ Did you incorporate into your setup any foraging toys and how did your bird(s) take to them and was age or inactivity a factor?
I don't really focus on having him forage while he's out, I like to save his foraging opportunities for when he has to be kept busy in his cage. He has a ton of other things to do while he's out and I don't think he'd forage while he was out any way, he'd rather climb around and hang upside down lol Inactivity has never been an issue with this crazy bird!

This is his new favorite thing to do....seriously, he has no shortage of energy lol
9~ What difficulties did you encounter, if any, and how did you remedy them?
One of my main issues is that I'm in an apartment so I really try to avoid making any holes or marks on the walls. Another issue is that my ceiling is made from that foamy stuff so I couldn't hang anything from it. Also my apartment is tiny so a standing play gym wouldn't work. I ended up using command hooks on the plastic strips of the ceiling to hang things from. It worked out well but its still frustrating because I'm limited to the plastic parts, I cant use the whole ceiling.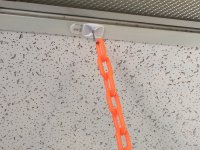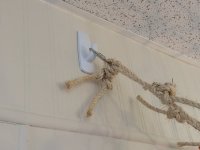 I also put a tabletop gym on a shelf that was next to his cage to give him more room without taking up more floor space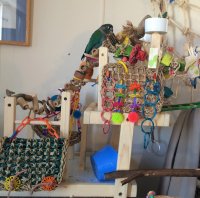 10~ What do you like least about your setup (if anything)?
I still wish I had more space and I wish I could use my whole ceiling to hang things from. I also have to be careful about how much weight I put on the command hooks. They work really well but they do have weight limits to them.
11~ What do you like most about your setup?
I love that I found a way to give Ben more room to play even though it's still not very big. I love watching him in more of a natural environment where he's up high, climbing and swinging around.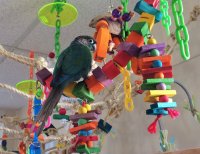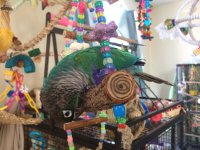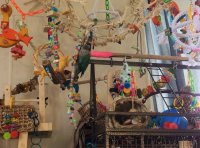 12~ Did your bird(s) take to the setup right away or did they approach it tentatively needing time to adjust and do you feel their age was a factor?
I couldn't even finish hanging things up because Ben was climbing all over everything. I had to banish him to the couch (he's still not great at flying) while I finished it. I think the main factor is that he was hand raised so he's very trusting of me and he also wants to be around/ on me all the time.
13~ Any future renovations planned?
I'm always rearranging things, I love watching my birds interact with new toys and figuring out what they really like. Even through out all of the pictures here you can see things are different in some of them.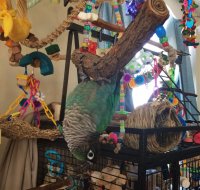 Thanks for the nomination and for being such a great community!