Biking along the boulevard
Avenue Veteran
BINGO!
Celebirdy of the Month
Mayor of the Avenue
Avenue Spotlight Award
Joined

7/3/16
Messages

7,747
Location
Real Name

Sarah
February 2020 Feathered Estates Highlight

I am very pleased to announce this month's showcased member
EkkieLu​
1~ What kind of birds do you have and how many birds did you design your setup for?
A. I have Lucy, a 12 year old female Eclectus (she's the flock leader and let's everybirdie know she's in charge), Sergei, a 28 year old male eclectus (the sweetest guy I've ever met), Newt, a 7 year old rose breasted cockatoo (a skittish little guy who loves head scritches), Angel, a 21 year old blue front amazon (the clown and acrobat of the crew will do anything to entertain us), and now Milly, a 25 year old hybrid milligold macaw (slowly blending into the flock and enjoying her newfound freedom). They all talk very well, call "Mama! " instead of screeching, and are totally spoiled!
B. My aviary room was originally set up for my crew of 4, although I've had the macaw cage in there for several years waiting for just the right macaw to join the flock. Gentle, plays well with others, on the quiet side...that's my Milly!!!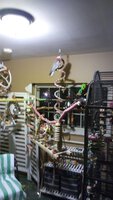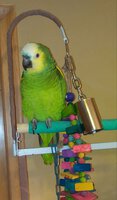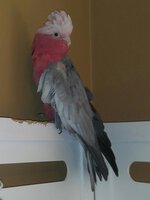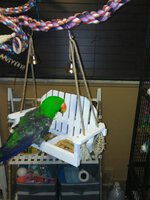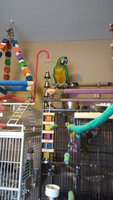 2~ Is your setup for a handicapped bird?
The aviary is set up specifically for Newt (who I adopted with 2 missing toes) and for Angel (who lost 2 toes last year). All perches, side rails, branches, ladder rungs, etc are wrapped in vet tape to help prevent them from slipping. Every week I strip off the old tape and rewrap everything. There's no way to properly clean the tape! I have wooden ladders from each cage to the floor, going up the front of their swim spa, and even to help them on the wooden climbing wall. I wrap natural jute around table and shelf legs to enable secure climbing (and protect the wood!).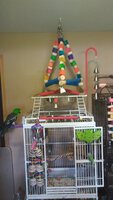 3~ Are there any budgeting tips you discovered while doing your setup?
Budgeting for them is something I take very seriously. Let's face it, birdies are not cheap to feed no matter what people think! I plan out their meals for the week and make a list of the fresh fruits and veggies I'm going to need. This helps alleviate spoilage (there's enough wasted food on the walls and floors of the aviary without it going to waste in the fridge!). I also love the AA sidewalk sales and various specials and discounts our vendors offer to us. Look for sales and stock up when you can! I buy a lot of the wonderful vendor-made toys, but I also order lots of toy parts and make toys for them myself. Angel and Newt love to help with toy making! I always keep my eyes open for "people" things that will work for the aviary and bring some joy to the flock. Their climbing wall is actually a folding wooden room divider! Was super cheap on sale for 50% off and it is one of the most used items in the aviary (besides the food dishes of course, lol).
Also, I can't stress enough to have an emergency medical fund set aside. When Angel needed emergency surgery I was told it would cost around $3,000.00. I was never happier than when I was able to say "Do whatever he needs, I can pay for it".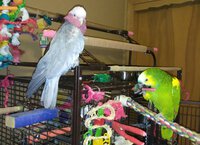 4~ Is your setup changeable or stationary and do you add or make changes continually or do things stay primarily as is?
I make weekly changes to the aviary to keep things stimulating for them, and each summer I rearrange the entire room. When I bring back an "old" toy they all have to rush over and check it out! Although many toys don't last very long around here, I have a wonderful collection of more durable items they just love!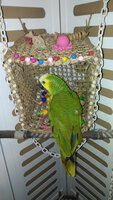 5~ Where did you find your materials if you made it yourself or where did you purchase the setup and do you have favorite places to purchase safe toys and/or supplies that you find reliable?
I do a lot of shopping right here with our wonderful vendors. I know the toys are safe, well made, and the prices are more than fair. For cages I generally buy used on Craig's list. I have a power washer that makes cages look brand new! Eventually I'd like all stainless steel cages of course!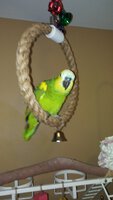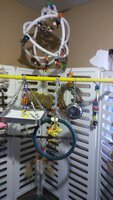 6~ Do you have a favorite item that you bought for your setup?
I recently purchased a Swim Spa from John! The crew just loves it!!! Twice a day I have to clean the pool because they are either wading in it or dipping toys and food items in it. That's how you know something is really loved...it has to be cleaned a lot!!!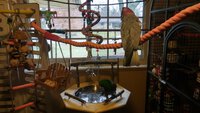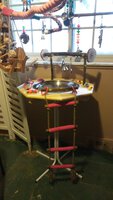 7~ If you made any DIY toys what is your bird(s) favorite and were there any failures?
I make a lot of DIY projects! Plenty of chewable hanging toys, foraging boxes, and climbing apparatus. I still sew birdie ponchos and mail them to AA friends and rescues too. After Angel was back on his feet after his surgery I got the brainy idea to cover a long perch rod in soft fleece instead of just the usual vet tape. I thought it would be easier on his stitches. It looked great too...for about 5 minutes! Newt started chewing it off from one end, then Angel decided that looked like good fun and started ripping it off from the other end! In a matter of minutes it turned into a ratty, snarled mess! I won't try that again! Lol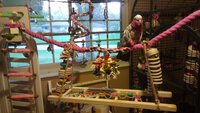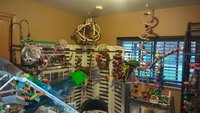 8~ Did you incorporate into your setup any foraging toys and how did your bird(s) take to them and was age or inactivity a factor?
I have 6 of those foldable fabric covered storage cubes in the aviary filled with toy pieces, shreddables, some nutriberries, tp tubes, etc. They each like to root through the boxes and see what treasures they can find. Sergei climbs out as soon as he finds a nutriberry, Lucy picks out "special" pieces to take back to her cage, Newt will shred everything he possibly can, and Angel takes his time dropping everything over the side onto the floor! When chew toys are pretty much ready for the trash, any clean, useful pieces or parts go into the foraging boxes. I add a few nutri berries and they think they've hit the jackpot!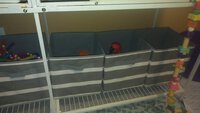 9~ What difficulties did you encounter, if any, and how did you remedy them?
Difficulties with sharing is always an issue with any free-roaming group! So I make sure to have plenty of everything from toys to water bowls. I get comments about "too many toys" regularly, but it's the only way to avoid little skirmishes! I never add just one new toy because like little kids, that's the toy they will all want! I know the aviary looks like a toy shop exploded, but it keeps the peace and everybirdie is happy!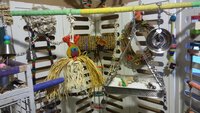 10~ What do you like least about your set up (if anything)?
Because there is a lot of birdie paraphernalia in the aviary, cleaning is always an issue! I hate to admit it, but I'm raising a flock of slobs! So the next time I create an aviary it will have a drain in the middle of the floor so I can power wash the entire room!!!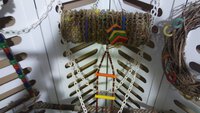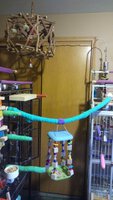 11~ What do you like most about your setup?
The thing I like best about this aviary is there's always plenty of options for them to just be birdies and have fun! My crew is always doing something and I think that is so healthy for them, not only physically but mentally too. I also attribute this to them being a quiet group.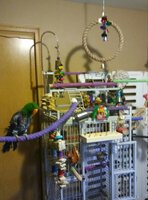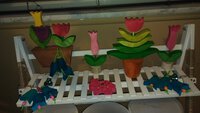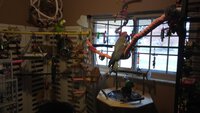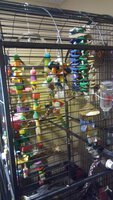 12~ Did your bird(s) take to the setup right away or did they approach it tentatively needing time to adjust and do you feel their age was a factor?
Each birdie is an individual and approaches new situations differently. Newt is my skittish guy. He's slow to venture out and see new things. Lucy barges into any situation like she owns the place. They each explored the aviary on their own terms. I tried to arrange their room to accommodate the flyers (Newt, Angel, and Milly) as well as the ekkies who haven't figured out they can fly yet! Climbing around the room is made easy by the addition of heavy ropes and wrapped pole perches. I don't think age affected their reactions to exploring the aviary. I believe it's just individual personality!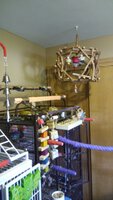 13~ Any future renovations planned?
I have a wall sized cargo net and wire shelving to install next! I'm just giving Milly some time to settle in and get used to the crew before I make any major changes. I'd like to eventually remove the cages entirely from their playroom!
Last edited: