ASK ME FOR PICTURES OF MY MACAW!
Super Moderator
Avenue Veteran
Celebirdy of the Month
Mayor of the Avenue
Avenue Spotlight Award
Joined

4/28/18
Messages

24,023
Location
Real Name

Shez
August 2021 Feathered Estates
Highlight

I am very pleased to announce this
months showcased member
webchirp
​
1~ What kind of birds do you have and how many birds did you design your setup for?
Mostly green cheek conures (15) with a sun conure, gold cap, maroon bellied and Roseifrons conure…and two little parakeets.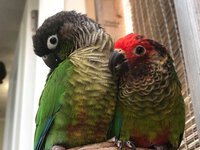 Julip & Kari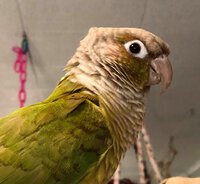 Rue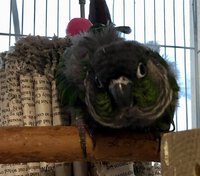 Moki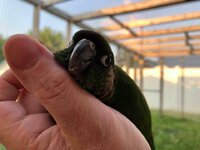 Maks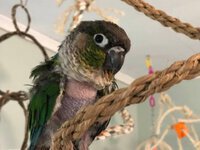 Giggie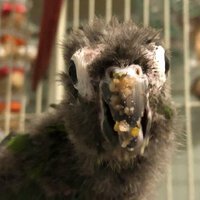 Carlton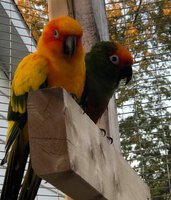 Chya and Happy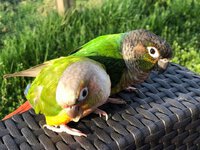 Maui and Zia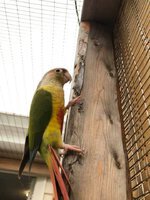 Madi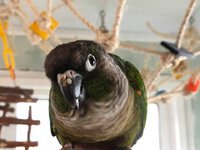 Rocco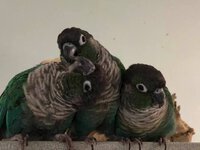 Amada, Boober and Tosh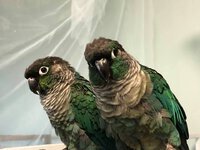 Jewel and Zephyr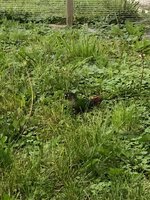 Bitty (can you see him in the grass?)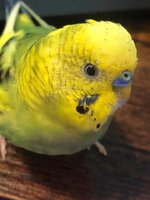 Mickey
Chicky (who is still very unhappy with for the vet trip)
2~ Is your setup for a handicapped bird?
No, it is just a normal setup.
3~ Are there any budgeting tips you discovered while doing your setup?
Just add things as you have time or money. Don't be afraid to do a little diy. Your birds won't care if it's perfect!
4~ Is your setup changeable or stationary and do you add or make changes continually or do things stay primarily as is? All the cages are fairly stationary as they have zones that they stay in. Someone will be a rebel on occasion and start a scuffle in another area they aren't supposed to visit. Maks only allows female visitors that are not named Julip to his side of the room. Anyone from the opposite side had best not visit the turquoise side as well. And if someone goes where they aren't supposed to, the entire room erupts in screams…bunch of tattle tails. Case in point just today, I forgot to shut Maks door properly. I heard the conure fight song playing and realized someone was out.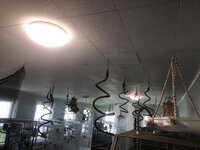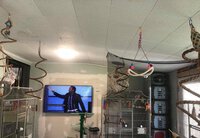 5~ Where did you find your materials if you made it yourself or where did you purchase the setup and do you have favorite places to purchase safe toys and/or supplies that you find reliable?
Wood from the local lumber stores (Lowes, Menards), Rope from
Best Selection of Cut-to-Length Rope - Knot & Rope Supply
. Unfortunately, the company that carried the aviary wire doesn't appear to be doing so anymore. Also, the avian vendors provide the best assortment of things that are safe and excellent quality. However, things like cupcake papers, pill cups and other items can be easily purchased through Amazon or even the grocery store.
6~ Do you have a favorite item that you bought for your setup?
My wire…I love being able to go outside with them. I just made framing like you would a wall in your home except the studs are 24" apart. Screw the wood together, lay flat and staple the wire on. Super easy!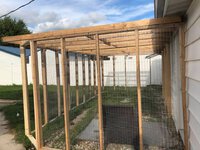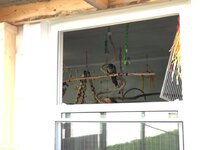 7~ If you made any DIY toys what is your bird(s) favorite and were there any failures?
My first toy was pretty scary but I stuck with it and over time became a better. I just take way to long and add too many things. Like the Hachiball…I haven't found anyone to volunteer taking over making them…lol. Oh and book toys are a favorite as well. You can get inexpensive books from the dollar store. Just don't use them if they are too old as the ink at that time wasn't soy based (1980's?).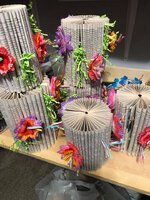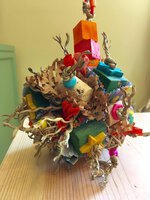 8~ Did you incorporate into your setup any foraging toys and how did your bird(s) take to them and was age or inactivity a factor?
Some foraging toys like bins. Drilled holes through some plastic dishes and hung up. Fill with popcorn, some toy parts and a few nutriberries. Best thing ever! Old pic from when I had lots of fosters and need a large tub for them to share although I took the rope out of that one.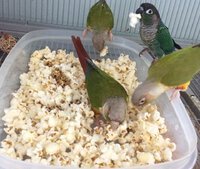 9~ What difficulties did you encounter, if any, and how did you remedy them?
Keeping the peace in a large flock. They have to have zones and if someone leaves the zone, place them back. If it continues to be an issue, I divide with netting as you can see above.
10~ What do you like least about your set up (if anything)?
It's a little too plain and I need to replace the ceiling…the tiles are horrid to clean and really don't come clean, plus hanging things are difficult because you have to hit a wood slat (tiles are held up with nails on slats). My first layout was so much better. I also need to crank out more toys for the room as well as cages.
11~ What do you like most about your setup?
They can all be out of the cage at the same time even though there are butt heads in the flock. Divided space with netting doesn't completely block them but gives me a chance to grab anyone other than Jewel who makes a dash to climb.
12~ Did your bird(s) take to the setup right away or did they approach it tentatively needing time to adjust and do you feel their age was a factor?
They all actually enjoyed it right off the bat so to speak. I think when you have a larger flock, the newbies learn from the others very quickly.
13~ Any future renovations planned
Oh my lord yes! The elderly birds were supposed to be in my office but those little turds can hustle when a little keet wants to visit. So back to the drawing board for them. I'm going to build them a mini aviary cage on one of the windows. I also bought some additional netting and a curtain track so that I can pull the netting across the room and allow those on the back wall to have a section of the aviary. I'm splitting it into thirds with a small passthrough for myself to access things. I'll put up netting in the passthroughs to keep everyone apart. Maks seems to think he owns the entire aviary and is a turd. It's a good thing he's cute and we have a serious connection. Like I think he might be a person in there.