ASK ME FOR PICTURES OF MY MACAW!
Super Moderator
Avenue Veteran
Celebirdy of the Month
Mayor of the Avenue
Avenue Spotlight Award
Joined

4/28/18
Messages

24,023
Location
Real Name

Shez
April 2022 Feathered Estates
Highlight
I am very pleased to announce this
months showcased member
flyzipper
​
1~ What kind of birds do you have and how many birds did you design your setup for?
I currently share my space with 3 birds: Marvin is a 65g female Green-cheeked Conure, Jericho is a 450g male Severe Macaw, and Oscar is a 1000g male Military Macaw.
2~ Is your setup for a handicapped bird?
None of my birds are handicapped.
3~ Are there any budgeting tips you discovered while doing your setup?
Taking care of our avian companions is a marathon, not a sprint, so my primary advice would be to not think we need to do it all at once. Which leads into the next answer...
4~ Is your setup changeable or stationary and do you add or make changes continually or do things stay primarily as is?
I think of this aspect as a collaboration with each individual in my flock. Take a step, watch how it's received, and use that new knowledge to take the next step... and repeat. Some aspects, like their sleeping cages, are fairly fixed, while their play areas are more modular and dynamic.
5~ Where did you find your materials if you made it yourself or where did you purchase the setup and do you have favorite places to purchase safe toys and/or supplies that you find reliable?
There's quite a wide variety of sources in our setup. Cages came directly from the manufacturer, toys come from a local avian shop that I like to visit in person and support as much as possible, some natural branches came from a local arborist while some others came from my property, and the rest came from hardware stores (wood and stainless steel fasteners). I also have my eye on some stainless steel restaurant serving options that I will source from a restaurant supply store when the time is right.
6~ Do you have a favorite item that you bought for your setup?
It's probably not what's intended by this question, but my favourite item is a janitorial dustbin/sweeper combo that makes it easy to pick up pieces of chewed 2x4s and other things that would otherwise clog my vacuum. I also really like the use of kraft paper on rolls and find that really helps during cleanup and maintenance. Specifically regarding their setup, I like the hanging play stands, and the ease with which I can move things around.
7~ If you made any DIY toys what is your bird(s) favorite and were there any failures?
I usually buy my toys, and have only made larger chew toys out of blocks of wood that are simply threaded through chains. The failure (learning) in those cases is to make the piece of wood as small as possible because my guys focus on the weakest section where the chain passes through (so any extra simply falls to the ground once they've chewed through that bit).
8~ Did you incorporate into your setup any foraging toys and how did your bird(s) take to them and was age or inactivity a factor?
I have skewers that can be hung from various areas in their setup. I will do this more widely in their setup in the future once the floor is more suitable (currently carpet). A challenge I have with my varied flock is allowing them freedom to roam, while managing their interactions with each other, so far-flung foraging excursions might become difficult to manage... we'll see.
9~ What difficulties did you encounter, if any, and how did you remedy them?
I have a mixed flock of extremely varied sizes, and my middle guy can be aggressive toward the other two, so this is a constant challenge. I solved this, although not completely, by ensuring each of them have their own play areas that they know are theirs. Having lots of space is extremely helpful in this regard, so I'm not looking forward to temporarily condensing our living area into a much smaller space during future renovations (short term pain for long term gain).
10~ What do you like least about your setup (if anything)?
I'd like their play areas to be larger, but my biggest gripes are the floors and the windows. As I mentioned, the floors are carpet, and that's the worst choice for birds, so I'm looking forward to replacing them. The windows are full of character, but they don't allow us much visibility to look outside, nor do they allow much light in from outside so the space is darker than I'd like. Both items will be remedied during a future renovation.
11~ What do you like most about your setup?
The size and openness of the space and having double-doors separating the living space and every exit (leads to flexibility, safety and ultimately as much freedom as is possible for captive birds). It's like a big empty slate that lends itself to whatever we can imagine.
12~ Did your bird(s) take to the setup right away or did they approach it tentatively needing time to adjust and do you feel their age was a factor?
They took to the space quite quickly.
13~ Any future renovations planned.
My overall plan for the space is to divide the lower level into one apartment and one commercial/retail space, and the upper will be our home. The main principle for our space will be to keep the majority of it bird-safe since I like my flock to be able to go wherever they want. In addition to the floors and windows (with bird-safe glass), other bird-focused improvements will include redoing the HVAC system to improve overall efficiency, comfort and indoor air quality. To increase the size of their play areas and improve their feeding stations, I'm thinking about indoor pergola setups like this (
link
). I'd also like to construct an interior room that's well insulated and is serviced by a backup generator to act as an emergency "bunker" during a power outage, so heat can be easily generated and preserved (some insurance for living in a large building in a cold climate). That need may be augmented during the HVAC upgrade by switching to thick slab radiant floors since they retain heat for a while. We're also fortunate to have enough outdoor space to add an aviary there, so that's also on the todo list. Video surveillance for interior and exterior habitat monitoring is also in our future. Too many things to do... over multiple years.
Jericho and Marvin's play areas...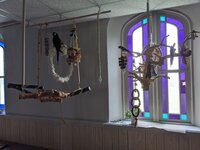 Oscar's play area...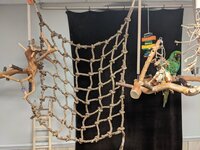 Marvin and Jericho's sleep cages with extra toy inventory...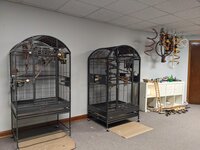 Oscar's sleep cage (that he never uses) and a spare...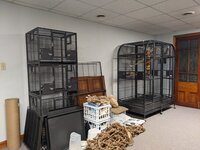 Lower orientation...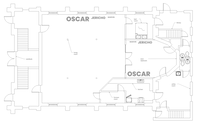 Upper view...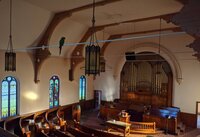 Upper orientation...