Joined

6/16/19
Messages

149
Im not quite sure if this is even possible, or maybe someone has a better idea. This is not for a parrot but my corvid Nera, she is apart of the family and is out all day with us.
My issue is that she is messy with her food and water, much worse than my large parrots. She would fling wet food all over the room and would tap on her water bowls giving the whole room a bath. The whole room her perch is in has dried water droplets all over everything.
I would love to minimize the mess, and i think i have a pretty good idea. Her perch is beside a big window, im thinking i could make something like this.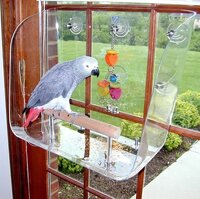 Unfortunately they don't sell these here so i have to make one myself, or at least something that serves it's purpose. I could put her bowls there so when she splashes the water and flings food, most of it is caught on the side panels. Another plus would be that i can put some toys that she can stack and pick up on the area too.
if anyone have similar ideas or solutions to messes they are welcome!
here she is, she is a sweetheart, its a shame that they have such a bad reputation, they are such intelligent creatures. She is so gentle, even when she is annoyed she won't peck and will communicate another way that she wants to be left alone.