Ripping up the road
Administrator
Avenue Veteran
Celebirdy of the Month
Mayor of the Avenue
Avenue Spotlight Award
Joined

4/15/10
Messages

46,760
Real Name

Matthew
Our "Mayor of the Avenue" award is presented to a member who exhibits the qualities that distinguish them to be an upstanding credit to the Avenue, a loving, informed, conscientious and caring bird parront and an all around good neighbor.

I am happy to announce that Jenelle is December's Mayor of the Month.
I enjoyed reading your interview, and am sure that everyone else will as well!

1. What kind of birds do you have (age, species and names)?
Fritzgerald, Military Macaw, unknown age but estimated early twenties
Mia, White Bellied Caique, 16 months old
Sky and Blue, American Parakeets, both 16 weeks old
2. What got you interested in birds?
When I was 4 years old my grandparent's neighbor passed away, leaving behind her African Grey she had emigrated with from South Africa. The bird's name was Viva and my mom took her in because no one else wanted her. She was over 50 years old and only lived 2 years with us before she died. Viva spoke Afrikans and English, made many noises and whistled quite a few songs. I was so fascinated by her and terrified of her because she would attack if she got out of her cage, but in her cage she was very sweet (loved to be talked to and could carry a conversation of sorts) as long as you didn't touch her cage. My mom was very attached to Viva so when she passed she picked up a replacement bird, a baby cockatiel from Meijer (remember when they sold birds at the grocery store??). This cockatiel was named Cosmo and was THE SWEETEST bird. He loved everyone and would let me put barbie clothes on him, he was the most laid back bird I've ever known. Viva was scary and interesting but Cosmo really cemented my love of birds. He passed away when I was 16 years old. I did have another bird in my life until Fritzgerald came along.
3. What have your birds brought to your life?

Oh geez... that's a loaded question! Stress, love, laughter, heartbreak, anger, frustration, joy.... it's probably easier to say what they haven't brought to my life.
Fritz biting Claudia (my 6 yo daughter) was emotionally one of the worst things I've ever gone through (look up threads from February if you are not familiar with the situation). There was a time I was moments away from giving him away to the first person who would take him. It has been very challenging but rewarding to see our family adapt to that horrible event and now we all have a different outlook on interactions with Fritz. Since February no one has been bit (by any birds!) and I think it is because we all have a healthy respect for his space and the way he is interpreting a situation. What we might intend as a non threatening gesture (like reaching for his head) might be interpreted by him as dangerous and scary. Things are a lot better now.
Mia and the parakeets are just pure enjoyment. Mia is nearing hormones so we will see how that goes! I may be singing a different tune once those hit full blown
The parakeets are so sweet to listen to and I love watching them fly. Their chatter is so soothing and lovely to listen to.
4. What have you learned from sharing your life with your birds?
Respect and body language awareness. Birds are not like other animals, you cannot approach them with the "I am the Alpha and you will obey me" mentality. If you do, things will go horribly wrong. I have learned to respect what a bird is telling me and realize that forcing them to do what I want may get me the result short term, but in the long run I am not teaching this animal to love or respect me. If I refuse to respect their wishes how can I expect them to respect mine?
The body language awareness thing is really interesting. Since I really started studying bird body language I've become more aware of people's body language around me. I'm now constantly sub-consciously scanning people for signs of distress or for if they are confused or uncomfortable. I can't turn it off! haha
5. What's one birdie memory that will stay with you forever?

Good or bad? lol
The first time Fritz took a bath about 6 weeks after we got him I cried because it was the first "normal bird" thing that he had done. He had been too sick and lethargic before, so it was exciting to see him finally perking up and feeling better.



6. Where is your birds main living area?

In my living and dining room. Originally everyone was in the dining room but Fritz would yell at the little guys if they were too loud or any time they flew around. Now they are in the living room and he has the dining room to himself.

7. Did you change things in your home to accommodate your birds and if so what kinds of things did you change?

Honestly not much has changed other than moving some furniture and getting rid of candles.
Fritz destroys socks, so I am trying to train my husband and two kiddos to either leave their socks on when they get home or put them in the laundry. It's not working, I'm constantly buying socks.



8. Are you involved in any kind of bird related group or activities?

Just here
9. What is the one luxury item you would love to have for your bird(s)?

An aviary! Going cage-less is my dream.



10. Is there any bird that you dream of owning and if so why?

There is an Emu farm about 60 miles from my home that I visited in 4th grade. Ever since that day I have dreamed of having a couple of emus. I almost convinced my parents to let me get some but luckily found out they do not co-habitate with horses very well before I actually bought the eggs. That would have been disastrous!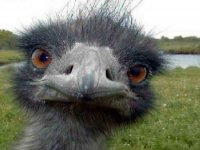 But look at that face though!!!
11. Describe a typical day with you at home with your birds.

I wake up at 5:15am, get myself ready, then let out whoever wants to be out while I get them all fed and watered for the day. The girls and I are out of the house by 6:45 am. On Tuesday's Mia comes with me to work. I get home at 3pm and let Mia and Fritz out and get them a snack. I make dinner and everyone gets some (usually a pasta or grain with veggies and some sort of meat). Fritz puts himself to bed around 8pm and then the 'keets get to come out and play. They have been climbing in the various trees in our house and like to fly around to my plants and chew on them (only the spider plants). I go to bed around 10pm so everyone is tucked in by then.



12. What have you learned about owning birds that you would like to share?

It is really dang hard! Especially with the big guys. It is seriously like having another child, they require so much attention and entertainment and look to you for it. If you do not think you are ready to have children then you are not ready to have a large bird either. Don't get me wrong, the little ones are a lot of work too, it's just if a parakeet is angry and bored the worst bite might draw a little blood. If a macaw is angry and bored they could take a finger off. A busy bird is a happy bird, the more interesting and entertaining you make their day the more relaxed they will be.



13. If you knew then what you know now about birds, what would you do differently?

I wish with all my heart I could go back and change the day Fritz bit Claudia. I was so naive and thought I "knew" Fritz and that he wouldn't bite. I would never have let my guard down. I learned such a hard lesson and paid for it at my child's expense, which is quite possibly the worst feeling as a parent.
Now I am a little over protective of Claudia and Haylee with the birds. Mia is a baby and has only had positive experiences with humans, I trust her to not attack (for now...) but have drilled into my girls' heads what to do if she does turn and start biting.
I've learned body language and respect for space if they ask for it, but too late.



14. What other hobbies do you have?

All year round I rock climb 3x per week and keep a lot of plants.
In the summer I ride dirt bikes with my husband and in the winter my whole family snowboards.
I also like to read
15. Anything else you would like to share?

How much I appreciate this community!! I love the support and advice I have received, it really has been life-changing. I love that there are people from all walks of life here and such a wealth of knowledge. I hope I can continue contributing as well to help further peoples knowledge of bird ownership and hopefully someone can learn from me and avoid making my mistakes!