Joined

1/31/18
Messages

111
Hello!! Happy New Years Eve
This morning I noticed my budgie had stepped in her own fresh droppings (she has a small pressure sore on that foot), so I immediately went to try and give her a bath. Because I'm home alone and can't do it myself and she freaks out while trying to be caught, I can't catch her. But I did manage to get a lot of the droppings off just by cleaning the perches and getting her to step in water and then dry it off with a paper towel.
However, I noticed a small cut on the bottom of her foot, at least I think it is a scratch? - I have no clue how on EARTH she managed to do this, except for the fact that she had a night fright about a week ago OR when she made a very strange trill-type noise yesterday while moving back from her water bowl. It seems to already be clotted, and I cannot see any blood anywhere in the cage. Does this look urgent, should I take her to the vet? I'm not sure if they'll be open as it's New Years today, so I'm really hoping it's alright to just wait it out and let it heal up by itself.
She is chirping and playing and even puts pressure on that foot. Admittedly, I am noticing that she is holding it up from time to time, but I've only really been able to give it attention for about 2 hours. Additionally, she has perches and swings vet-wrapped so I know that she has soft surfaces she can go to.
I want to watch it for a few days, but I'm afraid of infection. Any ideas on what I should do/if this is a cut or not?
Thank you!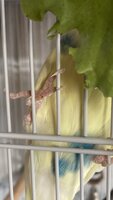 Last edited: