It is with great pleasure that I announce the
Celebirdy for the month of September 2019,
@AkasyaEllric
Slade
​


1. How did you acquire your bird?
I initially saw a picture of him on Facebook on the local bird fair page asking "Are you going to be my new mom?".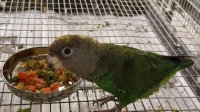 I fell in love and looked for him at that fair (Oct 2017), but sadly didn't have the money at the time. He bowed so we could all pet him and grabbed a piece of wrapped candy and put it in my hand. I couldn't stop thinking about him for months. Tax refund season rolled around (Feb 2018) and
@Mizzely
encouraged me to call the place and see if he was still there. He was! So we drove 2.5 hours to go see him. I had thought he was a baby at the time, but, it ended up that he was 8 years old, and the foster was his 3rd home. She wanted to see how I could handle him and had me ask him to step up. He did, but then latched onto my thumb. I got him to let go and calmly put him down, and she said based on the fact that I took the bite and knew about birds that if I wanted him, he was mine. I decided he deserved the chance, and I had seen that sweetness in him before and I knew we could get there. Regardless, I knew he wouldn't have to worry about finding another home again if he came home with me and whatever happened, he was home.
2. What is your bird's name, species, age and sex?
Slade, brown headed parrot, around 9 years old, male
3. Does your bird do any special tricks?
Nothing on command quite yet, but he likes to dance with my husband and I.
4. What are some of your bird's favorite foods?
Literally anything I have. If it was his choice we would share every single meal. What's in his cage wise he likes dried papaya and tropican pellets the most.
5. What is the funniest thing your bird has done?
Probably the first time he laughed appropriately without someone laughing first. It ended up turning into a 10-15 laughing fest since I laughed every time he laughed, and he laughed every time I did.
6. How has your bird enriched your life?
So much. He honestly has my heart in his little claw. He's helped me cope with stuff going on in my life that I have no control over, just by showing me that patience and perseverance can pay off even when you don't have the expectation that it will. This experience with him has helped me in so many ways I can't even count. I absolutely adore him.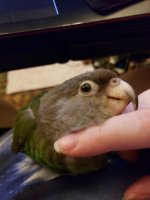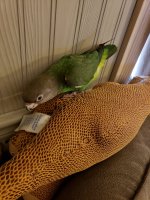 7. What would you tell people who are considering this species?
Obviously I haven't had one from a baby, but, I have read that they do go through a nippy phase and I would say please just give them a chance. If you can get through that you could have one of the sweetest birds you ever will meet. He isn't as noisy as some other poi species and is very mellow also. But, do your research and talk to people who have them since they aren't a super kept species.
8. What is the activity and noise level of your bird?
He's relatively quiet. He makes this grumbly duck sound most of the time to "talk" to me. He only really does the loud poi call if he thinks I've been out of the room too long or something scares him. Activity wise, he's definitely less active than my other two. He plays and chews wood a lot, but he also will take breaks and just watch tv with me.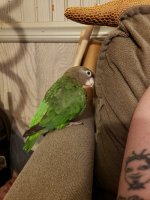 9. What are some of your bird's quirks?
Trust is earned, not given
10. If your bird talks, what is the most surprising word or sentence it has said?
The first time he screamed "HI, BABY!" when I left the room. This is now his I REALLY want you to come back call.
11. What is your bird's favorite treat?
Texas Freeze Dried Prissy Puffs or Nutriberries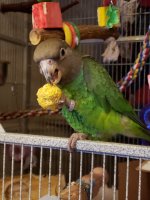 Last edited: