It is with great pleasure that I announce the
Celebirdy for the month of September 2018,
@greys4u 's Valentine!
​


1. How did you acquire your bird?
1. I acquired Valentine from T&D Aviary in Texas

2. What is your bird's name, species, age and sex?
2. Her name is Valentine and she is 6 years old

3. Does your bird do any special tricks?
3. No, just destroying toys is her favorite pastime.

4. What are some of your bird's favorite foods?
4. Bananas, potato, (very small amt) nutriberries and blueberry's

5. What is the funniest thing your bird has done?
5. She does so many funny things, one is going into a paper bag, running to the back and then running to the front, stare at me and as soon as I say something to her she runs to the back and up to the front and keeps doing it until she gets bored.

6. How has your bird enriched your life?
6. She has taught me patience and understanding by just being herself and sharing with me.

7. What would you tell people who are considering this species?
7. Suns have a personality all their own, they love to play and are smart, trainable, nosey, and protective. Because of their brilliant coloring you can except a lot of compliments

8. What is the activity and noise level of your bird?
8. She is quite content to play on her playstand or cage during the day but when I finish for the day she knows it and starts her scream for attention. Then its her t shirt time and going to be with mom for the rest of the day. She is also a guard bird. Whenever she hears or sees something she is not familiar with she lets me know by screaming. When she does that it starts my dog Zoe to join in so I have stereo screaming and barking, quite the combination.

9. What are some of your bird's quirks?
9. She loves my t-shirts, has to be cotton, not any other material, trying to bite my desk, and she is a social eater and will not eat her supper till I start mine.

10. If your bird talks, what is the most surprising word or sentence it has said?
10. She doesn't talk, just mumbles but sometimes she does make sense. After all these years of telling her nite nite and Thank You, I have heard nite nite and thank you in her own mumbly way. She has also picked up the words I use for Zoe when she goes outside but I cant say them here!!

11. What is your bird's favorite treat?
11. Valentines favorite treat is mango, dried cherries and watermelon.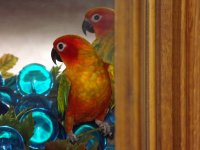 Last edited: