It is with great pleasure that I announce the
Celebirdy for the month of October 2019,
@BeanieofJustice
Sam Axe!
​



1. How did you acquire your bird?
I met him in 2013. I'd expressed interest in birds to whom, at the time, was my boss and a family friend. I went to her house to meet the birds. She called it a rescue. So, I started helping her clean the room, I used to go every other day to clean waters, feed, fresh food, and papers. Sam Axe (who was called Archie until he told me his name was Sam) was a timid, terrified bundle of feathers. I was told that he fell off the cage top that he lived on all of the time because he couldn't fly due to a wing that had been broken and didn't heal right. He shook anytime anyone came into the room. Except for me. He decided that I was his person. He would scramble over whenever I would enter the breezeway made bird room. He ate everything I brought and I used to feed him off of a spoon. He started calling me "Ma" and would shout it when I would leave, it broke my heart to leave him there. But, that also sealed the fact that I needed to bring him home. Especially after the friend of the family told me that she was chasing him with a stick because he was "giving [her] an attitude". As she saw herself as a "bird expert" nothing I said mattered.
I bought him his own cage there, and my timid macaw started to gain confidence. He started to play with toys more and more, I had to buy him small toys and work up from there. I had to wait a year so I was financially secure enough to bring him home, and to make sure that I was prepared for what I was in for.
I brought him home October 4th 2014.
2. What is your bird's name, species, age and sex?
His name is Sam Axe, he's a Scarlet Macaw, he's approximately 26 and he's a male.
3. Does your bird do any special tricks?
My mom taught him to say "Wooo!" After she says "Touchdown" He also knows that "Bedtime" means it's time to go into his cage.
4. What are some of your bird's favorite foods?
Almonds, Catiec Fresh Bites, mango, apple, blueberries, carrots, brown rice, quinua
5. What is the funniest thing your bird has done?
I found out that he loves to dance with kids, a friend was over with her kids and he started to dance they joined in. He also greets everyone with a loud "HELLO!"
6. How has your bird enriched your life?
How hasn't he? He's made life more interesting, and he inspires me, I know where he lived before I had him was a rough place, and he was emaciated when the family friend got him and yet, he's a happy bird who trusts me. Even in rough times, he keeps me going because he needs me to. We have a connection that I can't really explain, and we understand each other in a way I've only had with a few of my animal companions. He also makes me cook most nights because I have to make fresh food for him anyway, might as well make something for myself. Sam has shown me that I was meant to be a crazy bird mom.
7. What would you tell people who are considering this species?
Meet the birds. I'd also recommend meeting adult birds, and to visit one before bringing one home. I'd also say to consider their life expectancy and the cost of the bird's vet bills, along with supplies and toys. Also, learn how to build your own toys.
8. What is the activity and noise level of your bird?
Sam Axe is VERY quiet, he's not a good example sound wise of his species. He climbs around his cage actively, he doesn't destroy a lot of toys but he's recently started on the hardwoods.
9. What are some of your bird's quirks?
He does not like sticks and he does not step up, and while he enjoys getting his head pet, he prefers to be the one doing the cuddling with his head. His favorite playstands are chairs. Because of his poorly healed wing, he is flightless, so he needs room to climb and is cautious of any perch that moves. He is very clear when he decides to learn a word, and he uses them in appropriate situations which is always fun when someone new meets him and finds that out. He's a very friendly guy, originally, he hated older women but with the time that my mom has spent with him, he's overcome it.
10. If your bird talks, what is the most surprising word or sentence it has said?
"I love you" Was probably the one that surprised me, I started telling him that when I started visiting him.
11. What is your bird's favorite treat?
Eggs, cheese (rarely ever gets), bird cookies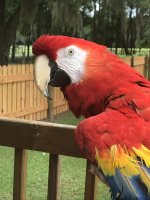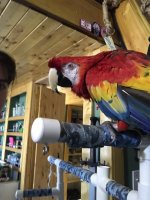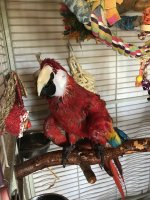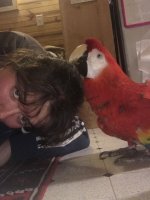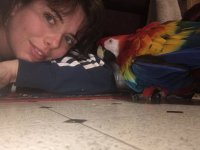 Last edited: