It is with great pleasure that I announce the
Celebirdy for the month of October 2018, @Crazy4parrots Baylee!

​



1. How did you acquire your bird?


I rescued her and she was about 10-12 weeks old. Some woman abandoned her inside a cardboard box leaving her next to a trash can, I was buying some food to the lovebird pair (they were sitting on 5 eggs) i had back then, never in a million years i thought i will come back home with a new lovebird but she chose me because i took her out of the box briefly in the store where i bought the food. I didnt had the heart to leave her there abandoned.



2. What is your bird's name, species, age and sex?


Her name is Baylee Sofia she is a turquoise lovebird she is 7 years and 7 months old she is a female.



3. Does your bird do any special tricks?


Yes, she goes through a tunnel, and do the a whole course based on Chicken Camp. Ramp, Tunnel and Zigzag also she knows how to ID primary colours and associate words to images and objects to words.



4. What are some of your bird's favorite foods?
Banana
Any bell pepper
She is very picky
Carrots (only if cooked and chopped)
Grapes (peeled)
Her pellets she loves them
but only if they arent mixed with her seeds in which case she wont touch the pellets.
Sweet potatoes
Papaya
Cantaloupe (she loves it)
Sweet pepper
Rucula
Egg yolk (cooked)
Quinoa (cooked)
Oatmeal

With hard work and thanks to AA i have managed to improve her diet with other techniques to introduce new foods to her. When i rescued her she was a seed junky.

5. What is the funniest thing your bird has done?
Drop the broccoli and stare at it and make stinky eye to it lol.
Ate my friends book...because she didnt thought Baylee was capable of destrying it. LOL nonbird people! XD
Ring her bell and make my mom think someone is at the door LOL. And best part is my mom says who would be LMAO.
Stinky eye to natural orange juice and shake her head like


6. How has your bird enriched your life?


She has made me realize that birds,especially parrots are the best animals to have. I never felt like this with dogs. I love the dogs but not to own them only to work with them. My mom have learned to love birds more than dogs.



7. What would you tell people who are considering this species?
Evaluate your options very well parrots even tho they are cuddly. Every parrot have different personalities just like Baylee is cuddly and wants to be with me 24/7. Hannah the other female i had hated people and could get out but not be touched cause she would rip your finger... Kiwi my baby boy loved eating all type of veggies and he wasnt supper cuddly like Baylee, he was cuddly but more independent he liked to explore around. While Baylee goes to where ever i walk. So just because Baylee is super cuddly doesnt mean all lovebirds will be like that.
I love lovebirds and i dont see my self having big macaws, small ones yes, but for now lovebirds its all i have known since 2005.

8. What is the activity and noise level of your bird?
She is average in her activity and she likes taking naps at noon for 1 hour.
Well usually she peeps loudly when she hears me around the kitchen (she sleeps in a room next to it) so i go uncover her cage, take her out and then give her the breakfast...She doesnt eat until i take her out! Then at noon she peeps again i give her a treat and before going to bed i give her the seeds. Then she peeps to get out again one last time for the day then is lights out time and cover the cage. I dont consider her a loud bird.
9. What are some of your bird's quirks?
She hates dogs.. and gets anxious when she see or hears one very close.
She love bathing in flowing water in the handwash. But only that way cause i had tried other methods and she only baths if she see flowing water.

She cant see paper cause she destroy it.

10. If your bird talks, what is the most surprising word or sentence it has said?

She only said twice the word NO loud and clear, she even gave me stinky eye cause i was laughing, her talking voice is so tiny and funny LOL. She refused to get up on the ramp.


11. What is your bird's favorite treat?
Millet , avicakes and nutriberries!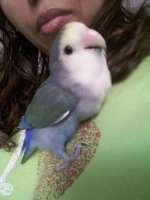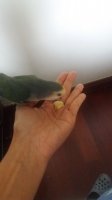 Last edited: