It is with great pleasure that I announce the
Celebirdy for the month of November 2019,

@HolliDaze
Dexter
​
​
1. How did you acquire your bird?
1) I acquired dex when i was 18. My grandfather gifted me $7000 at my graduation, and in all my infinite teenage wisdom, I bought a cockatoo from a breeder. I had a decent idea of the care that goes into a cockatoo, but i didn't know how many were stuck in rescues. I swore to dex that he'd never be abandoned by me the day i found out how many birds suffered that fate.​
2. What is your bird's name, species, age and sex?
2) Dexter is a Male umbrella cockatoo, aged 2 years. His hatch day is April 8th.
3. Does your bird do any special tricks?
3)In all his genius cockatoo nonsense, dexter does one trick- he flies to me on command (if he wants to).
4. What are some of your bird's favorite foods?
4) Despite many attempts to change this fact, dexter doesn't eat fresh foods. I have tried to give him chop on several occasions, but he always pics around it. He eats zupreem pellets and the occasional banana if i make it look good enough while I'm eating it.
5. What is the funniest thing your bird has done?
5)Dexter is a riot. One of my favorites was the time i took him to work with me at the pet store. I handed him to a female coworker and he immediately said "hey baby" to her. Another favorite is when he hears faislaq or anyone outside the room and puts his head down to spy on them from under the door.
6. How has your bird enriched your life?
6)There was a span of two years where i was severely depressed. The only reason I'm here today is because of that promise i made to him. I knew if anything happened to me, he'd be given to a rescue or the first person who offered money for him. He saved my life.
7. What would you tell people who are considering this species?
7) when people ask me about cockatoos, i tell them to consider it the same commitment as if they had adopted a child. If a child is loud, you dont give them away. You wouldn't abandon your child. A cockatoo needs the same commitment and patience.
8. What is the activity and noise level of your bird?
8) dexter is relatively quiet for a cockatoo. He screams if i put him to bed too early or let him out too late, but otherwise he's usually okay.
9. What are some of your bird's quirks?
9)Dex likes to sag his wings when he's relaxed. The first few times this happened, i thought he was ill. Turns out he just likes to rest his shoulders! He also gives himself scritches when he wants them from me. He calls all dogs "jasper" and barks at them, but only if they do it first! He says "step up" when he wants to be picked up.
10. If your bird talks, what is the most surprising word or sentence it has said?
10) I actually have this on video (and have posted it on the avenue) but i was walking around my room one day when he starts saying "step up". I obliged and put him on my shoulder, going in circles around the room while recording a video. I thought i heard him say "i love you" so i repeated it back to him in hopes he'd learn to say it better. I started explaining in the video why i said it back even if I'm not sure its what he meant. He suddenly says "hey!" So i stopped and asked "what's wrong?" And he said "i don't like it...". I repeat that back to him as a question and he says "yeah....." so i put him down. That was the first moment when i realized the whole "oh they're just mimicking" isn't as true as i thought.

11. What is your bird's favorite treat?
11) dexters favorite treat is baby bird food. I syringe feed it or put it in a bowl for him. He'll also drink human baby food warmed to 108 degrees Fahrenheit and I've blended chop as well.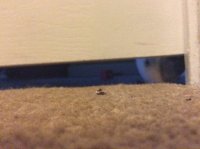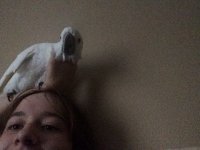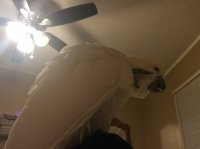 Last edited: