​
​

It is with great pleasure that I announce the
​
Celebirdy for the month of November 2018,​
Mockinbirdiva's
Henry!
​
Wow! I feel honored! Normally I can be a pretty quiet gal. But ask me about one of my birds and I can bore you to tears talking about them... well, maybe not the Avenue friends... but nobody in my area really wants to hear my birdie stories so thank you for giving me this opportunity to share! Grab your favorite beverage, cup of joe or a cocktail... it's a long read!
1. How did you acquire your bird?
Oh Henry! My dear Omygoodness Henry. My beautiful green boy came from a pet store I frequented for supplies. Never would I have considered buying a bird in a pet store but darned if I didn't fall in love with him when he was four months old. Those chocolate colored baby eyes sucked me in for a hard fall and how he loved having his head scratched. I knew the store owner well and he divulged information about the breeder. I did give it great thought for a while and then decided I would bite the bullet. Headed to the store with my hubby in tow to get my beautiful guy and to my shock... he was gone. The store owner told me someone had come in and bought him. My heart was so set and then so disappointed. Really, really disappointed. We left the store and went home... I was sick about it. Fast forward ten days later my birthday was coming up and I was looking forward to go to a restaurant for dinner. Instead, my husband informs me we are eating dinner with friends. Again... another disappointment! I didn't want dinner at their house! I don't think I hid my disappointment very well on the way there.... had me a little drinkie poo on the way to settle my ill manners...
Hubby had loaded a big box in the car to take to their house and it was kind of heavy! We had our greetings and a drink before dinner and they insisted I open gifts. The big box had another box inside.. filled with books...from our house. What? I'm confused. Then the card I open has a picture of an amazon from a book. Now I'm really confused. So the wife leaves the room and comes back out with Henry!! Utter shock and pure happiness and how thoughtful my husband was to pull off such a surprise for my 50th birthday.
2. What is your bird's name, species, age and sex?
I think it took me at least three months to decide on a name for my special guy. I don't have a clue how I came up with Henry. I sure don't know anybody with that name. But it stuck and fits him so well. He really only has one nickname... "Big Bird". It's so funny to hear him say that as well as his name. "BIG BIRD!!".. me: Yes Henry... you ARE a big bird.. "Oh". Henry is a yellow-nape Amazon. I just turned 62 last week so that makes him 12 years old. Definitely a male. I did do a DNA test to make sure. Even if I hadn't done a DNA test it would eventually become quite clear Henry is all boy in his manners. At age five he became a full blown violent male.
3. Does your bird do any special tricks?
Henry's favorite tricks? Really aren't tricks I taught him. His tricks are sitting over his cup of pellets before I get to his cage to let him out for the day. I often don't get 30 seconds to walk over to his cage to open the door before he sticks his big foot down into the pellets to grab a fist full and throw them. Door... open...NOW. Climbing down to his papers inside the cage to shred them in the evening when I'm getting ready to change papers. It's his way of getting attention... right now.. I've learned long ago to not react. I simply tell him I have more where those came from and offer him a wood block to shred instead and that makes him happy. I will say this.. I reach in while he's on his papers and snatch up the ones with big poop on it so he doesn't step in it and track it up the bars of his cage and thankfully, he doesn't lunge at me.
My objective is to lure him out of the cage and lock his door so I can go about my business cleaning and not deal with his shenanigans. He really knows what my triggers are. It definitely taught me the fine art of distraction!
4. What are some of your bird's favorite foods?
His all time favorite food is the "Grub" I cook for them. I make a big pot of mixed grains - kamut, pearled farro, pearled barley, lentils, split green peas, wild rice, shredded sweet potato, carrot, and apple to sweeten the pot. I bag and freeze this mix so each evening I can break off what I need and to that I add fresh chopped.. MINCED.. various veggies to mix in with the cooked grains. Those veggies are usually sugar snap peas, broccoli, zucchini or yellow squash and when I say minced... I thinly slice and chop those so finely they can't pick them out. I do on occasion add other vegetables which they can successfully avoid eating or they will eat less because they don't like the flavor. I have separate baggies of cooked vegetable pasta I thaw and chop small to add as well as a separate bag of frozen cooked chick peas... I chop those small too!! The method to my madness in custom chop every day is to try to give them variety without them picking just favorites. Ah well.. I try! I spend AT LEAST an hour doing their prep work every evening ... but I'm also cutting veggies for the other birds too. He's more accepting of other vegetables if I give him chunks during the day or morning. Know what I like best about doing this in the evening? I eat more fresh vegetables while I'm preparing their food. I mean, it's not like I would open the fridge and pull something healthy out to eat just for me!!!
5. What is the funniest thing your bird has done?
I think the funniest things I've seen Henry do is freak out when I put a whole blackberry in his cup on top of his dinner. If you can imagine shock on an amazons face
. He climbed down off that perch and as far away from his cup as he could. Lesson learned... no dark fruits...ever! And never, put a weird piece of wood too big on top of his cage in the pan. He can stretch his neck up long enough to try to peek over the edge and give it the wide side eye look.. What.. the heck izzat!?? He's not brave enough to check it out so to settle his anxiety I remove it.... silly bird!
6. How has your bird enriched your life?
Henry has taught me patience and understanding of what complex creatures birds can be. Through all the trials and tribulations over the years with him I accept him for what he is even when he is a force to be reckoned with. Kindness will always prevail even though it doesn't seem like it some days. I have a deep love for him and being his provider and caretaker is rewarding in so many small ways. Our relationship is better now than it was a couple of years ago and for that I am very grateful for his companionship.
7. What would you tell people who are considering this species?
Hmm... what would I tell someone considering a yellow naped amazon? Pull up your big girl panties and fasten your seat belt because you're in for a wild ride!!
Though in all honesty, I'd have to explain the mood swings, possible high aggressive traits and what they need to be happy. They simply aren't for the timid and can be forever changing up their daily or weekly habits. Be observant of body language all the time. They can go from calm to a P.O.'d vise grip coming at you in 2 seconds. Pay attention to what triggers high emotions and avoid it if at all possible. On occasion.. I accidentally drop a bowl and here he comes with full intent climbing down off his cage and "the business march" towards me. The #1 reason I have a plexiglass floor divider to keep him in his space and my toes in one piece. The loving playful baby you bring home will eventually mature and may become your worst nightmare.. if you don't think it can happen then move on to another species. Learn to not take it personal. They are what they are and if you don't think you can live with it for their lifetime then move on to another species. I do like that they are an independent bird. They do enjoy company in their space and like to watch what I'm doing. It's all too clear when I'm not wanted in his space and I respect that and leave. Hopefully later on he'll be in a better mood. Live, learn and love them! Patience. You'll need a ton of that.
8. What is the activity and noise level of your bird?
Henry isn't a highly active bird. His main activities are looking out the window... the neighborhood watch bird, ringing his bell ( especially around dinner time.. gives me chuckles... OOP!! There he goes! Ringing the dinner bell!) He can spend a great deal of time shredding wood. Will wander the floor looking for stuff and if I forget to close the plexi barrier he'll be on Lola's cage visiting. Sitting. In one spot. Because he's afraid she'll bite him.
He's fairly quiet. Around 5-5:30 in the evening he might pipe up and start talking. In the morning I always greet him with a cheery " Good morning, How are you!?" He's not a screamy boy. But boy, turn a vacuum on and all Amazon comes out.. everything he knows how to say will come forth like a woman ratting out her best friends cheating husband....
9. What are some of your bird's quirks?
Quirks:
Afraid of dark fruits.... could possibly be a menacing creature. It's not edible and I don't want to touch it or be near it. I'ma gonna hide from it.
Afraid of new perches. I'ma gonna hang on the side of my cage until it goes away. The last time I switched his perch in front of his food bowls he stayed on the opposite side of his cage. Didn't touch his pellets for three days and wouldn't nab the almond sitting on top of his pellets. I saw him hang upside down on the inside of his cage to drink water so he wouldn't have to touch the new perch. He was so out of sorts I had to hold his cup of cooked food for three days.. standing still for 15 long minutes watching him eat because he was so hungry.. he didn't care that I was staring at him.
I caved on the fourth day and gave back his old perch.
Extremely impatient to be let out ( throws his pellets)... for his cooked food (pacing and ringing bell)... for me to scratch his head ( again.. a dancing pace like a kid that has to go potty really bad...)
Doesn't like to big of a piece of wood to chew.. throws it down.
Can turn violent over rattling paper... I thought I'd give him a tightly rolled piece of junk mail two days ago and as I was walking over to his cage rolling it the clear window was crinkling loudly and he came out of his cage in attack mode. I got the message.... no more junk mail unless I casually leave it on the floor for him to steal.
Absolutely terrified of strangers. He's even afraid of my husband. Really, he's the nicest guy ever! You would think after 12 years my hubby would be old news but he will move to the opposite side of his cage just to avoid being close by. Could it be the mustache? Hmmm.... or the baseball cap. He is not afraid of my sister... oddly enough. He only sees her once or twice a year and we look nothing alike. Weird.

10. If your bird talks, what is the most surprising word or sentence it has said?


Most shocking thing he's ever said:
"Are ya hungry? You want some food?" Clear as you and I can say it. I think my eyes bugged out.. Holey Crappoley....I better watch my mouth and stop cursing around him. Believe me .. I did quit! It's his favorite saying.

"Yankee Doodle went to town, riding on a pony, stuck a feather in his hat and called it MACARONI!!!"
"Good Morning! How are you?"
"Whaaaat?"
"Uh oh." "Oh!"
"Big Bird!"
"Yum, yum, Parrot... tastes like chicken!"
"What'r you doing?"
Trumpet sounds... Doopdadooooo!!!!
"See ya later Alligator.."
"Lowlaaaa" ( Lola)
"Henry!!!"
"Emma", Riley, go potty"
"Sawreee" ( Sorry!)
"Come on" ... "Come over here!"
"Look what I have for you!"
"Looky look"
"All right"
"Here she comes... Miss America!"
"Silly Bird"
And for years I've been teaching him to sing Mr. Rogers "It's a beautiful day in the neighborhood.." but all I get is " It's a..." Somewhere I have him on video singing the whole verse so I know he can.

I'm surprised he doesn't say " Just a minute" or "Excuse me", those are my cue words for him to wait or move out of my way.

11. What is your bird's favorite treat?
Henry's favorite treat... ooo... hard to pick one. Most favorite would be pecans,almonds, then the occasional grape, blueberries- even though it's a dark fruit it's small, apple, loves whole sugar snap peas. Once in a blue moon I give him a small piece of my blueberry or banana nut muffin.. he's such a foodie most things tasty make him happy.

That's my Henry... my chunka lunka hunk of a Zon.
Favorite pastime... chipping wood!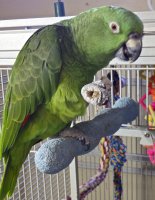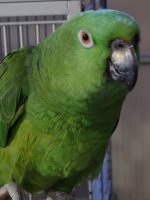 Here's looking at you!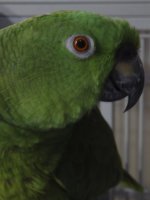 And last .... the face behind the name Mockinbirdiva! Taken on my birthday ten days ago.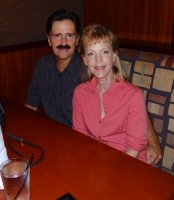 Last edited: