It is with great pleasure that I announce the
Celebirdy for the month of May 2022
@fashionfobie
's Zippy​
1. How did you acquire your bird?
We adopted Zippy from the RSPCA. He was the only finch at the rescue at the time, and I felt so bad for him. His bio explained that a vet brought him after he was placed at the vet's doorstep with a broken wing. He was left on the steps in a box. The vet treated him and eventually brought him to the RSPCA. Although it is incredibly dangerous to leave a little bird unattended in a box outside, I am not angry at the person who left him in that box. We don't know their story, and at the end of the day it got Zippy the help he needed. He was really a lucky bird. From the box, to the vet, to the RSPCA, to me, a lot of humans have done well by this little Zebra finch. His wing has also recovered very well, he can fly now. He isn't as strong of a flier, and some of his feathers still grow in at odd angles, but he can do it and he does.
2. What is your bird's name, species, age and sex?
Zippy is a zebra finch. We do not know his age, I have had him since 2019. He is a male with his cute orange cheeks.
3. Does your bird do any special tricks?
Not particularly. However he will sing to me when I make a high pitched, "beep beep bee bee" type sound. He is also a pretty human curious finch. He doesn't step up or anything, but he will follow you around when he is free flying. He wants to watch what you are doing. Obviously I turn off all the fans when the birds are out; he likes to hop around on the fan blades and look down at me.
4. What are some of your bird's favorite foods?
Pea Shoots and cucumber, he really loves these. His steeple diet is also a finch seed mix.
5. What is the funniest thing your bird has done?
Whenever he hears wild cockatoos, he gets very excited and starts calling to them.
6. How has your bird enriched your life?
He impresses me. He is a friendly little zebra who lives with his best buddy Peppy. They are always beeping and cheeping and keeping the house full of cute little finch song. They also preen each other which is adorable.
7. What would you tell people who are considering this species?
Zebra finches are available and affordable but this doesn't mean they are any less deserving. I have taken my finches to the vet just like I do for my other birds. Zebra finches are great little birds and can be rewarding companions for anyone you enjoys their antics, so long as their particular needs are met, such as an appropriate wide cage. I would warn people do be very careful about breeding when they aren't actually prepared. Zebra finches can have lots and lots of babies, very quickly —40 new birds means a lot of extra cages and vet costs. I intentionally only keep males. I know other people who only keep females. Pay attention to beak colour and cheeks. Males= bright red-orange beak, and orange cheek patch. Female= pale orange-yellow beak, and no cheek patch.
8. What is the activity and noise level of your bird?
They make some vocalisations almost all day, usually little beep sounds. They usually sing in the morning, the afternoon, and a little before bed. I would say they are probably suitable for apartment living, so long as you have a reasonable size flock.
9. What are some of your bird's quirks?
You would be surprised by how strong Zippy is. I give them natural branches with leaves on, and we have even given them potted trees. Zippy has denuded the toughest branch. He rips leaves off and tries to use them to build a nest. Watching a 12g bird fly off with a leaf that is bigger than him is pretty impressive.
10. If your bird talks, what is the most surprising word or sentence it has said?
"Beep bee bee peee bee teee churp chup chup churp chup chup"
(If you can imagine this in a zebra finch voice, this is more of less his song. Peppy's song is completely different. Even when I am not near them I know which finch is singing.)
11. What is your bird's favorite treat?
Probably his greens. Pea Shoots and cucumber. They also like the seed in their ground foraging tray, it is the same seed as their feeder, but they seem to enjoy hopping around in the hemp chips looking for it.
The first day I brought him home he was already curious about me. This was him in QT.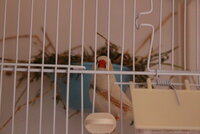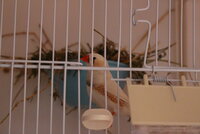 Zippy following me around the house. Proudly sporting his goofy feather.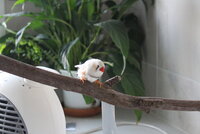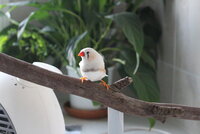 Zippy and Peppy
(sorry for photo quality- they hop around a lot!)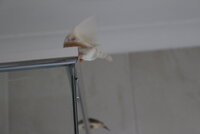 Zippy and Peppy exploring the house- with Zippy being in mid flight! Little champion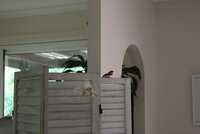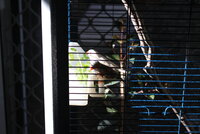 This was their xmas pressy in 2021.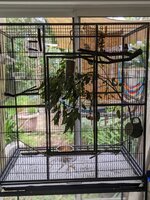 Last edited: