It is with great pleasure that I announce the
Celebirdy for the month of May 2019,
@faislaq
Buzzard

​


1. How did you acquire your bird?
When we decided to start looking for another bird we checked the shelters, let our friends know and also posted an ad on Craigslist saying we were looking for a "small or medium-sized parrot". I got a reply saying, "I know he is bigger than you were looking for". I opened it to a collage of pics of a macaw!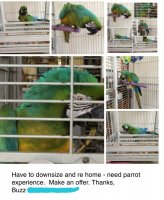 I deleted it immediately! Then I thought about it; it wasn't my decision to make on my own so I undeleted it & showed hubby when I got home. He said we should call before we make a decision. The woman was living in an apartment but they weren't going to let her re-sign her lease unless she got rid of him. After an hour on the phone with her I asked hubby what he thought. He said, "Let's at least meet him." She was several hours north of us so we decided to meet halfway. When we got there he was in a medium wire dog crate, his cage was broken down in the back of her Jeep, and the lady was dressed up to go to a ballet in town with her friend.
What was she going to do if we'd said no?? She was so determined to give him to the first person who would take him that we were worried where he'd end up
so we agreed to take him and loaded his cage into our vehicle. We figured we could at least find him a home with someone on AA.
2. What is your bird's name, species, age and sex?
Buzzard is a miligold macaw, presumed male and is 15 years old. His previous owner didn't know his hatch date, but she said she was his 3rd home & was told he was 7 when she got him. So in lieu of his hatchdate, we use his gotcha date: December 10th.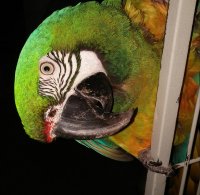 3. Does your bird do any special tricks?
Not really? He steps up when he wants to, which is almost everytime, but won't step off til he's good and ready or agrees to the terms of a bribe. He
will
hold out if he feels we need to do better.
Also when he's on your arm he will lean towards whatever direction he wants to go and he does say a few words like "Buzzard!" or "woo-WOO" when he's really excited or "up-up" when he's feeding his Kong or looking out the window (many meanings), and he said "Pretty Bird" in a really excited voice once when I forgot to dilute his juice.
He is also starting to laugh when we laugh, but in his own voice and not if we fake-laugh to try to get him to do it.
4. What are some of your bird's favorite foods?
Nuts in the shell. He likes to crack them then play with the shell once he's finished.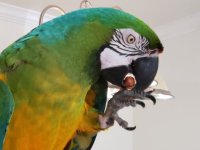 5. What is the funniest thing your bird has done?
He used to flip light switches!
When I was trying to get him used to the apartment, I'd take him room to room on my arm, but he would get startled when I turned lights on or off, so I started saying "light" and move him closer so he could watch me flip the switch. One day I got a text, "Your bird is turning the kitchen light on and off."
I recorded a quick video before we put the dining table in storage to make room for him on the far side of the room away from the switch.
Here's Buzzard turning out the kitchen lights on me. He turns them off to get my attention and then peeks around the corner at me. Booger bird!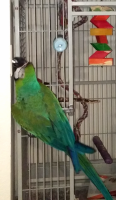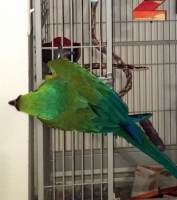 6. How has your bird enriched your life?
He's the best excuse for taking a break! I always feel like I'm pulled a dozen different ways, but when I'm feeling frazzled and I see his sweet foot go up it's time to go play. We go in the bedroom where we can shut out the other animals and get some one-on-one time. I can check emails or AA on my phone while he plays with his toys and digs in the blankets.
7. What would you tell people who are considering this species?
That they're not for everyone and that it's a big commitment. I'm not shy about telling people how messy he is or how his death scream can melt your knees out from under you. I like telling the bad stuff to see the look on their face.
They might think I'm crazy, but they also don't want one anymore!
8. What is the activity and noise level of your bird?
Buzzard is very easy going, not demanding at all. He's plenty happy climbing around his cage inside & out or on his playstand playing with his toys. Aside from the occasional loud squawk he only screams if he's afraid of something. And he also "talks" to himself a bit in the evenings. I love hearing him practice his sounds peppered with an occasional word or laugh.
9. What are some of your bird's quirks?
I don't know if it's a quirk, but almost every time I scratch Buzz's head he has to have my thumb in his beak. It works out though because it leaves my fingers and other hand free to go to town on pin feathers or just head-fluffin' scritches.
10. If your bird talks, what is the most surprising word or sentence it has said?
When hubby picked up his travel cage, Buzz looked up at hubby and said, "Hi!"
Surprised the heck out of us! We're didn't know he could talk and none of our birds did. Lol
11. What is your bird's favorite treat?
Walnuts. When we asked if there were any foods he didn't like, the only one his owner mentioned was walnuts. She said, "they make him grumpy."
Go figure, he loves 'em and will take them over any other treat.
Last edited: