It is with great pleasure that I announce the
Celebirdy for the month of July 2018,
@melissasparrots Cosmo!
​


1. How did you acquire your bird?
I got her from Blackstone Aviaries (now retired) in 2005. She was shipped from California to Iowa. She was the only hyacinth they produced that year and the only breeder who's waiting list I was on that produced a chick that year.
2. What is your bird's name, species, age and sex?
Name is Cosmo. Female hyacinth macaw. She is 12 years old. She turns 13 in September.
3. Does your bird do any special tricks?
Not really other than the usual spontaneous macaw antics. She can dump a supposedly undumpable food bowl and break welds on her cage. Those are pretty cool tricks in her opinion. She also has a special talent for waking me up from a dead sleep with a single full volume hyacinth scream. Also a pretty cool trick in her opinion. She does it when I forget to close my bedroom door at night.
4. What are some of your bird's favorite foods?
Macadamia nuts are favorite above all else. Otherwise she likes sweet potatoes and various fruits. Cantaloupe seems to go over well.
5. What is the funniest thing your bird has done?
Lay down on the floor of her cage and do sit ups with me.
6. How has your bird enriched your life?
Well, she's kind of a nuisance actually. I wouldn't live without her but she is not quite a perfect fit in my house of amazons and cockatoos. She's turned me into a macaw person and it was a slow conversion. I was prepared more for a snuggly bird and she's more of a whirl wind. Much more so when she was younger than now. Now that she is older, she is one of my best snuggle birds. But not necessarily every day.
7. What would you tell people who are considering this species?
They are different than other macaws but not necessarily better. And don't believe that all of them are going to be gentle giants and super cuddly. They have their own set of issues. While they might be a bit sweet and more even tempered than other macaws, they can be just as rambunctious and even more destructive and screamy than other species. Not to mention the expense of upkeep is higher. No one should idealize the hyacinth.
8. What is the activity and noise level of your bird?
She can be fairly noisy. She is one of my few birds that screams when I'm getting food ready, and when she can't see me. She is MUCH better now than when she was younger. She used to be kind of a problem screamer from day one when I took her out of her shipping crate. Activity level has calmed down. But, if she thinks I'm not paying attention, she'll immediately seek out something valuable to destroy. Mostly to get my attention back to her. A lot of the time, she'll even check to make sure I'm watching when she goes for something to destroy.
9. What are some of your bird's quirks?
If she's jealous because I'm holding another animal before her in the evening, she'll randomly do a single full volume scream just to startle me. She likes to shred her downy feathers, so even though she looks gorgeous, little whiffs of gray fuzz go air born when she flaps. She is a very loving bird and sweet bird but also every bit a crazy macaw. She can be obsessed with regurgitating for me. It used to be worse during her younger years and even limit the amount of attention I could give her due to her attempts at grabbing my face and feeding my ear. Now she just sits on my lap and hurks up her nuts and then eats them again.
10. If your bird talks, what is the most surprising word or sentence it has said?
She doesn't talk much. She can do a very sweet Hi. Sometimes whispered when she's in full snuggle mode.
11. What is your bird's favorite treat?
Macadamia nuts.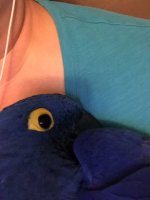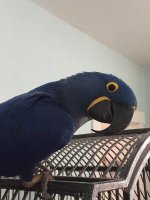 Last edited: