It is with great pleasure that I announce the
Celebirdy for the month of January 2020,
@txdyna65
Lucy​
1. How did you acquire your bird?
(1)
We bought Lucy from a Lady in North Carolina and picked her up at the airport in Austin.
2. What is your bird's name, species, age and sex?
(2) Lucy, Yellow Naped Amazon, 4 1/2 yrs old and DNA female Her hatch date is June 28 2015
3. Does your bird do any special tricks?
(3) I would say her special trick is singing. She picks up parts of songs and sings her version of them.
4. What are some of your bird's favorite foods?
(4)
Lucy loves almost all food, but I would say her favorites are sweet potatoes, bell peppers and cooked pumpkin.
5. What is the funniest thing your bird has done?
(5) She learned all of our dogs names and my daughters name and can sound just like my wife calling them.
One day she called my daughter Valerie.....Vaaalerie come here....my daughter came to the livingroom and asked what my wife wanted
only to find out it was Lucy. She does this often and my daughter falls for it alot. She also calls the dogs and tells them to go outside, most
of the time they fall for it and run to the door. Example...Chopper, Arthur, Max, Chevy come on boys lets go outside, they will run to the door,
then of course you have to get up and let them out. It can get annoying when she does it 100 times a day, you would think the dogs would figure it out.
She doesnt call me by name, but instead calls me chopper and calls my wife baby.
6. How has your bird enriched your life?
(6) I would say laughter, she seems to know when my wife and I are in a bad mood or sad and makes it a point to do or say something to make us laugh.
Its always nice to come home and hear hello baby when you walk in the door or be told bye bye baby when you leave, but my favorite is at night when I
go to cover her and she tells me loooove youuu.
She has the ability to make us laugh all day and makes you love her more for it.
She is a ham and she
goes out of her way to do things to get your attention.
7. What would you tell people who are considering this species?
(8) Do lots of research, much more than I did (6 months) And get a female. She is considered one of the hot 3 but being a female
we havent had to deal with some of the hormones that males are typical for. Also be prepared for how loud they are and the mess.
Also try to socialize them with every member in the house early on. Its just my wife daughter and me, but Lucy willingly lets us all hold
her and that makes it easier for my my wife and daughter when Im gone for work, since Lucy is bonded to me.
Lucy isnt a biter, but
you need to know when she doesnt want to be handled or you will get bit, learn the signs they give you for this.
8. What is the activity and noise level of your bird?
Lucy is very active most of the day and is very chatty but not loud in the mornings. She can get very loud in the evenings when she
feels like she should be fed or if we sit down to eat and shes not eating too. Her singing can get loud at times, but shes really not a
screamer. She loves going up and down her boing, playing on her stand and spending time in her outdoor aviary.
9. What are some of your bird's quirks?
(9) Singing in the shower comes to mind. She sings songs in the shower that we have never heard her sing before and will only do in the shower.
In the evening, shes knows when its time to eat and will let you know it and when shes ready to go to sleep, she says time to go Night Night
and wont stop saying it until shes covered, she makes up for it when she tells you love you though
10. If your bird talks, what is the most surprising word or sentence it has said?
Out of the blue leaving the house one day she tells me bye bye baby, which she does all the time now, but that day it was a shock.
And her telling me love you one night as I covered her, just melted me. She has a pretty large vocabulary and picks up things pretty quick.
The funniest thing she said or did though was around easter. We leave the TV on when we leave the house. We come home and she starts in with this
clucking chicken from the cadburry egg easter commercial. She can do it perfectly and we about die laughing.
11. What is your bird's favorite treat?
Lucy loves nutriberries pine nuts and pistacios with the shell on it.
But she wants to pick her own out of the bag and not just have it handed to her.
Thanks you for choosing Lucy this month, shes my special girl.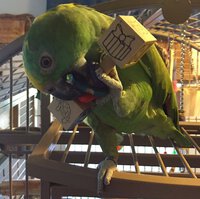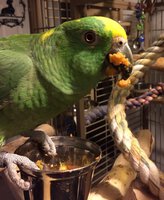 Last edited: