It is with great pleasure that I announce the
Celebirdy for the month of January 2019,
@CrazyBirdChick
Blu!
​
Blu and I are very excited and thankful that he was chosen as celebirdy of the month! He has always believed that he was a celebirdy and now he can say he had the official title.
1. How did you acquire your bird?
I got Blu from a bird fair, kind of on a whim. I had been considering a green baby Quaker for a while and was looking at a batch of 7 there but while I was contemplating someone else came along and bought them all.
I told myself it must not have been meant to be so I continued to walk around and then I spotted Blu on a perch, away from the other birds, at a different vendor they had there.
I always told myself I would never get a blue Quaker but just because I was bored I asked how old that Quaker over there is? They plopped him on me and told me to go away from his perch (Quaker territorial behaviour) and when I did he came alive. Started laughing and dancing and said I love you.
The breeders were surprised by how much he liked me and then went on to tell me that they had to come to Chicago because it is now illegal to sell Quakers in Wisconsin. So without even thinking I said I'll take him. I kind of regretted it for a few months but now I know he was the best thing that could have happened when it did.
2. What is your bird's name, species, age and sex?
Blu is the name he came with. I've wanted to change it but he does know it so I don't think it'd be right. He is 3 years and 9 months old, and a DNA'd male.
3. Does your bird do any special tricks?
Not really, besides being almost human like. We've never really worked on tricks.
4. What are some of your bird's favorite foods?
Blu is a little picky but he likes his sprouts, and veggies on a skewer. He only eats pellets that are moistened so we have to eat those at designated times. He especially likes the seeds from peppers. He loves avicakes and pumpkin seeds and picking the safflower seeds out of nutriberries.
5. What is the funniest thing your bird has done?
Just a couple of weeks ago when I told him it was almost time to go night night he waddled over to my face with attitude and said - you talking trash?
6. How has your bird enriched your life?
He has completely changed my life in a good way. This is going to be really deep. I had got to the point where I thought I didn't want to live anymore and even had a plan for the future, if you know what I mean.
Then one day I had a health scare and truley believed I might die. I realized that day that I can't and don't want to die because Blu depends on me.
Besides completely changing my outlook on living he has also made me change my everyday attitude. I noticed quite early on into having him that he was only happy if I was happy, and there was no pretending or faking it. If I was sad or the slightiest bit angry he would continuously squawk in displeasure and even bite me. I realized that all he wants is for me to be happy!
And so I deliberately changed my mindset and now I am! Thanks, Blu!
7. What would you tell people who are considering this species?
That even though Quakers are not big birds they are not the easiest species. They have a huge attitude and are incredibly intelligent so you have to know how to go with the flow and "change the subject " so to speak, to make them forget their anger. Lol.
8. What is the activity and noise level of your bird?
He's pretty chill actually. He spends his morning on my shoulder while I get ready. Then when I go to work I watch him on camera and he naps and eats and sometimes weaves, if he's hormonal, but he's usually just chilling waiting for me to come home. Then we spend a few hours together before bed.
9. What are some of your bird's quirks?
He hates when my hair is wet, though he is getting better about that these days. He still gets ticked off when I walk in with wet hair but he realizes that he should just keep his distance and give me the stink eye instead of lunging at my face and taking a chunk out. We've come to an understanding, haha.
10. If your bird talks, what is the most surprising word or sentence it has said?
He says alot of surprising things but one thing that comes to mind is that for a while I had to help someone give their dog an insulin shot at night. So I would tell Blu, I gotta go give the shot, I'll be right back. And now that I'm not helping with the shot anymore sometimes when I'm about to leave the room he says - I gotta go get the shooot. And it sounds funny when he says it but also I wonder if a random person heard that they'd probably think he's talking about a shot of whiskey, tequila, or a shotgun or something. Who would guess an insulin shot? Lol
11. What is your bird's favorite treat?
No doubt about it...egg. He is an egg fanatic!
Oooh, I should probably add some photos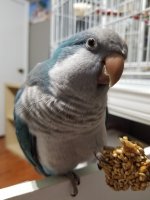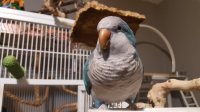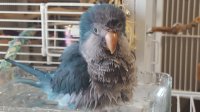 Last edited: