It is with great pleasure that I announce the
Celebirdy for the month of December 2021
@Wardy
's Mojo and KiKi​
1. How did you acquire your bird?
I got Mojo and KiKi from a breeder i found on the internet that lived about 60 miles from where i lived everything was arranged over the phone as lockdown rules where in place at the time. Both birds had been hand reared and due to restrictions the breeder had been unable to sell them. I brought Mojo home on the 24th April 2021 and then brought KiKi home on the 31st July 2021.
2. What is your bird's name, species, age and sex?
Both of my birds are Green Cheek Conures both female
Mojo is a high red pineapple and will be 1 in January 2022
KiKi is a yellow side and will be 1 in December 2021
3. Does your bird do any special tricks?
Mojo will rollover if you ask her but only on her platform perch in her cage , She also spins around her perch if you ask her to tumble also when coming out of her cage she climbs up her door i offer a finger she steps up and i ask her for a kiss she always gives me a kiss when i ask.
KiKI doesnt do any tricks
4. What are some of your bird's favorite foods?
Mojo is a good eater and eats most things offered she loves chillis, Sugarsnap peas,sweet peppers and grapes
KiKi is a bit more picky but enjoys bell peppers,brocolli and Nutriberries
5. What is the funniest thing your bird has done?
My wife shouted me once to come and see what Mojo had done i must not have put the grate back in the bottom of her cage and she had managed to move it slightly and had squeezed herself through the gap and was running around on the tray underneath her grate without a care in the world.
I had bought both of the girls a couple of flagstone perches from seriously
nutz
and some small beakstones they both took to the flagstones straight away however KiKi decided she wanted to climb up and hang on to her tiny beakstone to sleep.
6. How has your bird enriched your life?
When the pandemic hit i had to start working from home so they give me a daily routine outside of work and more importantly company and companionship and they make me smile.
7. What would you tell people who are considering this species?
I am very biased after bringing Mojo home i knew pretty much straight away i wanted more conures and it was only about 3 months before i got KiKi. They most definately are big birds in a small body can be exceptionally nippy and like to spend a lot of time with there humans when they are out of there cage. Anyone considering one i would most deffinately say yes go for it they are loveable clowns and definately more positives than negatives in my opinion.
8. What is the activity and noise level of your bird?
Mojo doesnt stop she is like a coiled spring she is always on the go either playing with her toys in her cage or getting up to mischief outside of her cage she just does not stay still. KiKi is much more chilled she doesnt bother with toys really but she does like to forage however when outside of her cage if she is not foraging she happily sits by me or on top of her cage and watched the world go by.
Noise levels on the whole they are pretty quiet but there contact calling can be pretty loud and there alarm calls i find to be really shrill they also get pretty noisy when they think it is time for me to swap there pellets out for there chop of a evening.


9. What are some of your bird's quirks?
Mojo likes to spend a lot of time hanging upside down from the top of her cage and when landing on her cage when doing zoomies if you dont cheer she bobs her head and shouts until you show her appreciation of her flying skills with a loud Whooo Whooo !!!!!!
KiKi doesnt have any quirks to speak of really
10. If your bird talks, what is the most surprising word or sentence it has said?
Mojo had never spoke a word and i brought her upstairs one day to see my wife who was working my wife greeted her with her usual greeting of Hello gorgeous and Mojo replied Hello Mojo
she says hello a lot and very occasional you get the full hello Mojo
KiKi doesnt talk
11. What is your bird's favorite treat?
Mojo loves her sunflower seeds, Pumpkin seed and the occasional sliver of grape and El Passo Nutriberries
KiKi is also a lover of sunflower seeds, Avi cakes and fresh strawberry and any Nutriberrie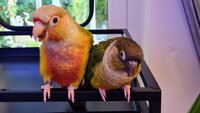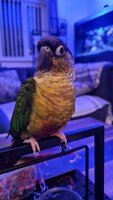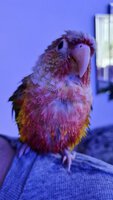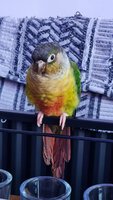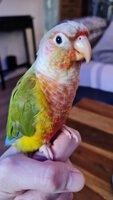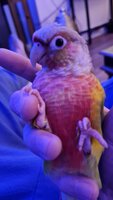 Last edited: