It is with great pleasure that I announce the
Celebirdy for the month of December 2019,
@FlyingMacaws
Archie​
1. How did you acquire your bird?
I actually adopted him here on AA. I drove from Florida to Washington to bring her home.
2. What is your bird's name, species, age and sex?
Archie aka Arch is a M2 and over 30. He is your typical M2.
3. Does your bird do any special tricks? Does escaping count as a trick?
His special talent is making sure that the entire neighborhood is aware when the sun comes up. He's also great at throwing his food bowls and laughing about it.
4. What are some of your bird's favorite foods?
He loves his fruits and veggies. Apples and ESPECIALLY his grapes.
5. What is the funniest thing your bird has done?
He enjoys scaring the cat. He sneaks up behind her and yells "Gotcha"
6. How has your bird enriched your life?
If you ever owned a TOO they are characters. Slightly crazy but that's why we call it Cockatood or Cockacrazy in my house.
7. What would you tell people who are considering this species?
I honestly tell people not to get TOOs in general. ESPECIALLY M2s. They are undoubtedly beautiful but they are extremely "needy", they are extremely destructive, they demand your attention, they have terrible mood swings, they need huge cages and let's not get into how LOUD they can be and even a "quiet" M2 has their moments.
8. What is the activity and noise level of your bird?
Archie loves his boxes and goes through wood like a wood chipper. He loves his boxes all shapes and sizes. Archie isn't a noisy bird but when he chooses to let you know he wants something he can be heard literally 5 houses down.
9. What are some of your bird's quirks?
He prefers women. He tolerates my husband. He loves to preen my daughters hair and he expects her to sit through it once a day. He will yell for the Implet by name till she places him on her chair.
10. If your bird talks, what is the most surprising word or sentence it has said?
He says "Good Morning, Honey" to me and "What's that Mom?" Or yells "How about ............."
11. What is your bird's favorite treat?
He loves his apples and grapes but he LOVES new boxes. Lol.
Photos of Mr Archie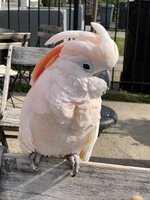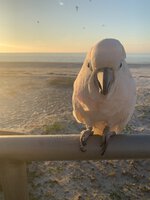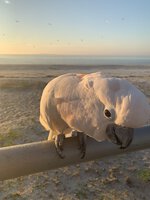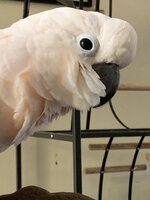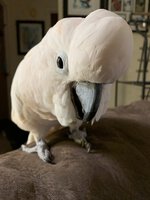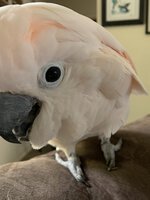 Last edited: