It is with great pleasure that I announce the
Celebirdy for the month of December 2018,

@Teckechick


Jenks

!


​


1. How did you acquire your bird?
When Aries passed away we were so upset, we still are even now but we had a ton of bird stuff and no bird to use it. Enter Jenks, his previous owners thought they would be bird people and they were not so he needed a home badly. We sat down and had a serious discussion about if we could emotionally give him a home. My husband and I both agreed that this bird needed a home and we had one so we drove down South to meet the little man and see if he would be a good fit for our family. We were not even out of the car fully before his owners were bringing his cage out the front door to us. It really threw me off that as soon as we pulled up they were out the door with him. After that and seeing his cage I felt even if he never wanted to interact with us we were not going to leave him so we loaded him in the car and didn't look back. We pulled over at the first gas station we could find to clean out his bowls
and give him food and water. We were both so glad that we made the trip poor little guy needed a lot of TLC.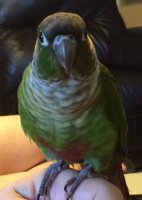 2. What is your bird's name, species, age and sex?
Jenks is his name and I gave him that name from a book series I am fond of. He is a normal Green Cheek Counre. I am not sure on his age but am guessing around one-two years old. The previous owners said that they had him for about 8 months and his band didn't have a hatch date on it. I had the DNA test done to find out that he is indeed a male.
3. Does your bird do any special tricks?
He is an acrobat in his off hours. Always hanging off of something and flipping around. When he first came home he would literally roll down the front of me, I had to play catch on several occasions as he couldn't fly very well so he couldn't catch himself. We haven't worked on any tricks or anything yet, we are just letting him be him. I have several enrichment type of toys to work with him on eventually but for now we are just encourage toy/foot play, foraging, Flying, and chewing/shredding all skills he was lacking.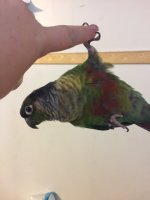 4. What are some of your bird's favorite foods?
He loves Sugar Snap Peas, Broccoli, peppers, fresh sprouts, and he is a chopaholic. He is our little piggy and the only thing so far that I have found that he really won't touch much of is birdie bread. It could be my birdie bread cooking skills though
as I am just starting to work with the breads so maybe like my first chops
they need some work.
5. What is the funniest thing your bird has done?
He has made a perch out of our TV and whenever he is out of his cage that is the first place he goes to survey the land. He does this shuffle step lurch thing across the top of the TV that reminds me of a character in an old video game. It cracks most of the family up that have played the game. For the longest time I couldn't place where the movement looked familiar from then one day bam it hit me
. I kept trying to get my son and brother to catch him doing it and finally one day he did it with them in the room. I asked them if they thought it looked like the werewolf/elf like creature from the game and they were like yes that is it. I had to pull old video clips to show my hubby what we were talking about. The link below is a clip of the creatures shuffle step and it cracks me up more than anything he does. I haven't caught him on video doing it yet.
6. How has your bird enriched your life?
I never could have imagined myself being a "bird person" but here we are
. He brings so much joy to my life and I don't think I could live without birds in my life at this point. All I have to do is sit and watch him play to put a smile on my face. I have had so many different types of animals over the years from Snakes, ferrets, dogs, cats etc... As much as I loved every one of them, none of them have touched my life in the same way as Jenks does and Aries did. It is still really weird to me how it happened but I am thankful that it did.
7. What would you tell people who are considering this species?
They are loud, messy, very active, lovable at times, monsters at other times, and a lifelong commitment. Do your research and then do more research!! Go spend time with a rescue or someone you may know that has a Conure or any bird for that matter. Spend more than a few days learning about them. Join a local bird group and talk to people who own birds so you can get a realistic idea of what your in for.
8. What is the activity and noise level of your bird?
Jenks is very active and he can get pretty loud. He is go go go from the time he wakes up until it is time for bed. He really doesn't have an off mode for activity or noise unless he is sleeping. If he is awake he is making noise and exploring everything.
9. What are some of your bird's quirks?
His shuffle step lurch across the TV. He makes a similar sound as one of the Velociraptors on the Jurassic Park movies, I think he is trying to mimic my kissy noises but it sounds similar to one of the raptor noises. He despises plastic bags and must attack if one is in HIS domain. When he bathes he almost fully submerges himself now and has finally figured out the big bowl in his cage is better for baths than the little bowl is. He is also obsessed with my hair and loves to tangle himself up in it, which is why I have it up in a ponytail or braid when at home. He hates it when the hubby has a hat on and protests this very loudly. He was scared/hostile towards the big bright orange bowl we had to put Halloween candy in. (JP Velociraptor sounds for your listening pleasure below)
10. If your bird talks, what is the most surprising word or sentence it has said?
His previous owners kept telling us he didn't talk. We didn't care in the least as that in no way matters to us. But he does in fact talk and quite often. Whatch ya doin buddy, Pretty Bird, step up, and we think/hope Love you are the things that he says the most. We are thinking that Love You may actually be F@*# You but we can't be sure so I always say love you anytime he says it in case he is being a potty mouth bird.
11. What is your bird's favorite treat? Hands down nutriberries
. He will do just about anything for a nutriberry, if he had children he would sell them for a nutriberry. I wish I owned stock in nutriberries with how much he loves them if I even go near one of the bags or Tubs he is right there.
And a few more pictures of his cute self...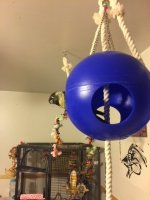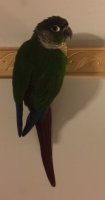 Last edited: