It is with great pleasure that I announce the
Celebirdy for the month of August 2020

@Kiwi's Mom Kiwi
​
1. How did you acquire your bird?
I got Kiwi from a store that specializes in birds called Parrots and Company. He is my first bird.
2. What is your bird's name, species, age and sex?
His full name is Kiwi Mango, he is a one year old male budgie. (Green Grey-Factor)
3. Does your bird do any special tricks?
He will fly to me for millet, but other than that he's not one to do any tricks. He would rather tackle my hand to get to the millet than learn a trick
4. What are some of your bird's favorite foods?
Kiwi's favorite foods are millet, dandelion flowers, quinoa, rice, and anything he can (try to) steal from me
5. What is the funniest thing your bird has done?
One day I was having pancakes for breakfast, and Kiwi was watching from the cage. I finished eating and let Kiwi out, but there were still some pancakes on the table. As soon as I let him out he flew to the table and tried to eat a pancake
I stoped him before he ate any of it, but it was hilarious because his small size made the pancake look huge!
6. How has your bird enriched your life?
I've learned a lot about bird behavior, I vacuum a lot more, I wake up earlier, and I've learned about budgie mutations (and I still don't really understand them lol)
7. What would you tell people who are considering this species?
Budgies are great companions, even though they're considered "starter" and "easy" birds. They may not be snuggly like other birds, but they have lots of personality. They're quiet, and they love to shred toys.
8. What is the activity and noise level of your bird?
Kiwi is very active, he flies all around the house, he loves to jump between the perches on his cage, and he loves to run around on the floor (with supervision of course). He is not a loud bird, and usually only has screaming fits two or three times a day, usually in the morning and evening. He does make constant but quiet noise, with lots of whistling and talking thoughout the day.
9. What are some of your bird's quirks?
I haven't had Kiwi for a very long time, so far his only quirk I have noticed, is that he won't take a single millet seed from my hand. It needs to be in a pile with other seeds or on the spray
10. If your bird talks, what is the most surprising word or sentence it has said?
The most suprising thing Kiwi said was the first time he said Kiwi. I was never expecting him to talk, so it was really exciting the first time I heard him say "Kiwi" in his adorable little voice.
11. What is your bird's favorite treat?
Millet! Kiwi would do almost anything for millet, he flies to it as soon as he sees it. After he has millet, he flies to the floor to forage for dropped seeds.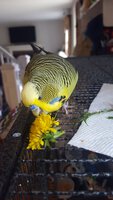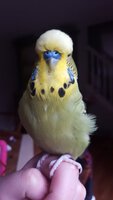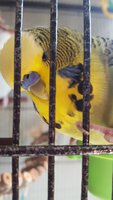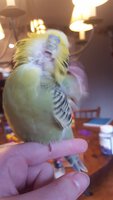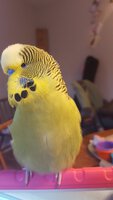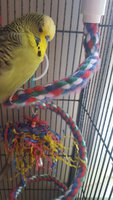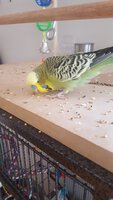 Last edited: