It is with great pleasure that I announce the
Celebirdy for the month of August 2019,
@Zara
Adelie
​
1. How did you acquire your bird?
She was born in my home on the 22nd December. (My lucky number)

2. What is your bird's name, species, age and sex?
Adelie is a 7 month old female white faced lovebird (Agapornis Roseicollis)

3. Does your bird do any special tricks?
No tricks, just recall which she is quite good at.

4. What are some of your bird's favorite foods?
Peas and quinoa (and seed).

5. What is the funniest thing your bird has done?
She does all sorts of funny and cute things. I always remember how she was sooo sweet with the vet that she fooled him into thinking she was male. Like butter wouldn´t melt.
Just before I started to cover Adelie for bedtime, she would wake in the middle of the night and sneak over to her wooden bridge and sit on it looking at me – it scared me silly the first time as I was working and could sense someone looking at me.

6. How has your bird enriched your life?
Adelie has brought so much to my life, and taught me so much. I watched her grow from a tiny weeny chick to a good sized strong independent hen. She has overcome so much and it amazes me when I think about her, and her valiant fight for life. But most of all above all else, she has brought more love to my life. From the very beginning when I started feeding her, I fell in love with her, I knew she was special and I was not wrong.

7. What would you tell people who are considering this species?
A lovebird is a great family companion, as long as they are socialised well they will interact with numerous people .They can be taught tricks if you wish and are fascinating to watch flying through the air around your home. Handfeeding a chick yourself won´t guarantee a snuggly bird contrary to popular belief – Adelie was handfed from 5 – 155 days old and she does not like head scritches.
These birds aren´t starter birds or beginner birds etc they are a small life bursting with personality. They need large cages, toys, enrichment, good diet, vet care and time devoted to them. Just because they cost less doesn´t mean they are worth any less. As long as you research well and are able to fullfill all their needs, bringing home a lovebird will bring joy to your days, and a great little friend.

8. What is the activity and noise level of your bird?
Adelie has her vocal moments, but generally is pretty quiet unlike her mum and sister. And even though her closed foot makes her walk with a hobble, that doesn´t slow her down, she is super active and loves to fly! I was worried about her as a chick because she grew so slowly and her flight skills were poor/delayed, but she is fully in the swing of it now.

9. What are some of your bird's quirks?
She does a few odd things that set her aside from my other birds. She likes to take the bell off her swing, but she does not break it, she unthreads it (and then I put it back on) I still can´t get my head around how she does it! She also spends a lot of time on her back, playing with bells and other toys, and sometimes for no reason at all.

10. If your bird talks, what is the most surprising word or sentence it has said?
She does not talk so any word would be the most surprising

11. What is your bird's favorite treat?
Has to be millet!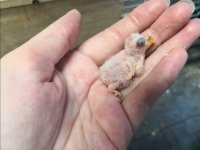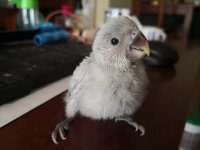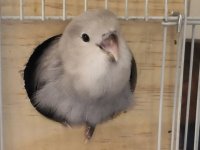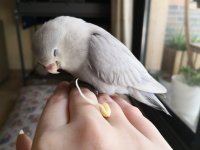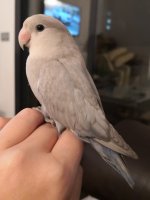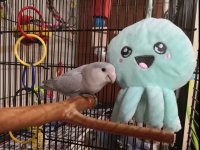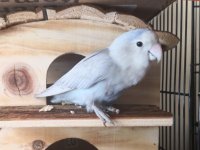 Last edited: