It is with great pleasure that I announce the
Celebirdy for the month of April 2021
@Sylvi_
's Mimi​
Oh my gosh, this is so exciting! Thank you so much. Hope I didn't attach too many photos
1: How did you acquire your bird?
Mimi and I met in 2015. I had lost my past cockatiel, Sunshine, a few months prior and started looking around for any that clicked with me in my area who needed a new home. During this time, I also contacted a few breeders to see about availability.
That's when one breeder (I'll use this term loosely for them) got back to me with photos of the one weaned baby she had available, and I felt instantly attached. I held off for a few days but every other bird I saw just made me want to meet that little pearl baby all the more.
From the few photos I saw, I knew the conditions at the "breeder's" house weren't great. And I wrestled with that before we drove to get her. Was this the right choice? Should I really be supporting this person?
When we got there and I saw the floor to ceiling cages, with way too many birds and the little pearl baby sitting in a small cage with her unweaned siblings; it was already certain in my mind. She was coming home with me. I paid the measly $40 and just like that, she was mine.
2: What is your bird's name, species, age and sex?
Mimi's is a 6 year old 'cinnamon pearl pied' cockatiel hen.
3: Does your bird do any special tricks?
She's definitely got some kind of mind control going on over me, if that counts. Anything the princess wants, she gets.
4: What are some of your bird's favorite foods?
Mimi's a true stubborn butt. She was weaned onto only seed but we converted to pellets too within a couple months. Nutriberries are a huge hit. She also likes chopped broccoli, yellow squash and occasionally will nibble on a bit of banana or lettuce I clip in the cage. But her one true love will always be...scrambled eggs. This girl will do anything for them. It made adding veggies a lot easier, and now she gets "veggie omelettes" a few times a week. As well as freeze dried chop, the only acceptable form of chop to Her Highness.
5: What is the funniest thing your bird has done?
Honestly, she's a riot. She's just got such attitude and I love her for it. Her asking for a scratch, and me not providing the Top Quality scritch she wanted will get my hand pecked with sheer sass. By this time, she's trained me to know exactly how she likes her scritches.
6: How has your bird enriched your life?
I can't think of a way she hasn't. Every day I wake up with her is a joy, and it didn't always use to be like that.
I've struggled with depression all throughout my youth. When I got her, I was still underage and deep in that mindset. She's followed me through those dark days all the way to where I am now as an adult, and I genuinely wouldn't have the stability and happiness in life that I have now without her. On bad days and good days, she loves me all the same. That's given me something priceless and I couldn't imagine my life without my little girl.
7: What would you tell people who are considering this species?
They're so much more than just a "starter bird." I've heard all kinds of negative things over the years about the smaller guys (cockatiels and budgies) and they don't deserve that negativity thrown their way just because of their price tag.
They deserve vet care. They deserve a big cage. They deserve a forever home with all the love in the world.
AA member's know all this, of course.
What I'd say to anyone else considering a cockatiel is that they're amazing birds. Sweetness and tons of personality in one little crowned package.
8: What is the activity and noise level of your bird?
Mimi's quite talkative for a female, I think. We chat back and forth about the daily gossip frequently. She chirps back enthusiastically to her name, too. Flock calls are about as loud as she gets though.
Over the past year she's not cared as much about destroying her toys but I still routinely swap them around, more to just give the Highness a new apartment layout. Her staples are seagrass, finger traps and anything paper. I'll also put strips of paper over her seed in the morning which she loves throwing around.
9: What are some of your bird's quirks?
Endless love. Unfiltered sass. Will speak her mind no matter what. She likes to poke her head over my glasses and stare at me cross eyed.
One of her other silly things is coming up to me during a movie or show & nuzzling into my hand. She also likes to refuse "step ups" by putting her head down for another head scritch from the Scratch Machine.
10: If your bird talks, what is the most surprising word or sentence they've said?
Mimi's never spoken but I do imagine if she could, it would be worthy of a sit-com.
11: What is your bird's favorite treat?
She's always loved nutriberries, which she holds in her feet adorably. The cockatiel staple of safflower, too. The fruit flavor is her favorite but she also really likes the orchard one!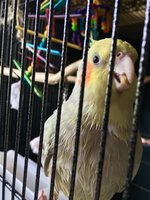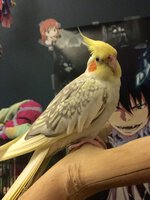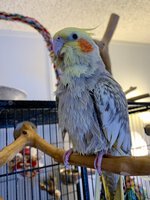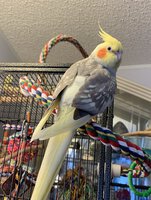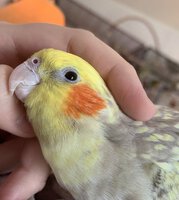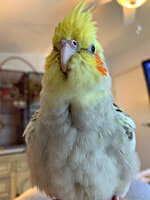 Last edited: