Checking out the neighborhood
Joined

8/30/23
Messages

2
Real Name

Michelle Henson
Hi All! I have joined this forum to learn as much as I can about my daughter's green cheek conures and her African Grey. They are so much fun! My profile pic is with Jilli, her female green cheek, giving me kisses. We are slowly gaining their trust. My daughter has had parakeets before, but this is her first experience with conures and an African Grey. I love birds and I can't wait to help her hand raise Jilli and Billi's babies. I have experience with parakeets, cockatiels and Quaker Parrots. I currently do not have a bird of my own, but that will change as soon as Jilli starts laying. I have first choice on one (or two) of the chicks.
Kia, her African Grey is more attached to her husband. We can tell she loves him the most. I will be sharing pictures of her soon.
Thank you for accepting me into the forum and I look forward to getting to know everyone.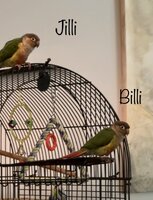 Have a Great Day! Michelle