Rollerblading along the road
Mayor of the Avenue
Avenue Spotlight Award
Joined

6/6/20
Messages

2,088
Real Name

Destiny
I was looking at my terrarium this evening and spotted a tiny baby gecko on the glass!
Can you spot her?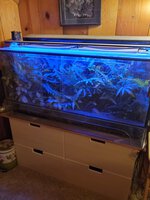 You'll have to look very close.
Let's enhance the image: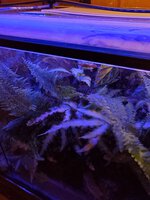 And even closer: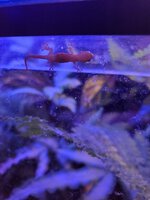 She is so ridiculously tiny! Maybe one or two centimeters long. So precious.
Here she is from above, so you can see her coloring.
Apologies for the blue lighting. Mourning geckos tend to be nocturnal, so they are most active at night when my "moon" lighting is on.
During the day, they tend to hide behind leaves or in tight spaces.
And here is the baby gecko's parent: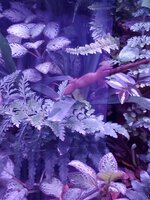 It is hard to tell from the picture, but she is much larger. Still small, for a gecko. Mourning geckos are "micro-geckos". They only get about 8 to 10 centimeters long, fully grown.
I only have one adult gecko. And now one baby gecko ... or maybe two? Mourning geckos reproduce by laying one or two self-fertile eggs. They are almost always female.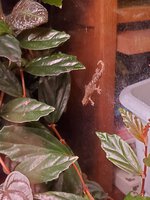 I'm quite happy. For the longest time I couldn't even find my adult mourning gecko. I thought she might be dead or escaped. I got her as a tiny baby gecko, not much larger than this new little one.
Here she is next to the 2 ounce condiment cup she came to me in: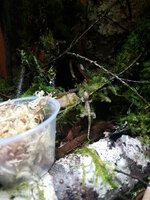 For a while, she was spending her days tucked behind the thermometer near the front of the terrarium, so I could check on her regularly. But she must have out grown that location, because she moved her day-time sleeping spot to a different spot and I couldn't find her for months. Finally spotted her one night on the glass at night and then started seeing her more often from then on. I think because the greenery was taking over the tank and she finally felt secure enough to come out where I could see her occasionally.
And now she has multiplied!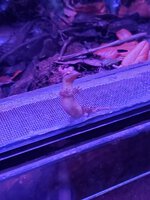 "Soon my gecko army will be ready and the Uprising will begin. Prepare yourself, human."