August 2018 Feathered Estates Highlight




​

I am very pleased to announce this month's showcased member​

Nikomania!​



1~ What kind of birds do you have and how many birds did you design your setup for?

We have 12 birds: 2 dusky conures, 1 pineapple GCC, 1 BHC, 1 lesser Jardine's, 1 meyers, 1 panama amazon, 2 CAGs, 1 eclectus, 1 scarlet macaw and 1 miligold macaw. Our set up is a recently built outdoor aviary, designed to allow them ample room to freely fly around in. Dimensions are 10x20 feet. I wanted to make certain that the larger birds could easily fly laps around it perimeter if they chose to.

2~ Is your setup for a handicapped bird?

No. None of our birds are handicapped.

3~ Are there any budgeting tips you discovered while doing your setup?

I always watch for any sales on bird toys. I try not to pay full price for any toys. I saved up for 2 years in order to build our dream aviary. I wanted to make certain it would be built using high grade bird safe building materials, so I had to exercise a bit of patience!

4~ Is your setup changeable or stationary and do you add or make changes continually or do things stay primarily as is?

Our aviary is permanent, but the inside set-up is definitely changeable. There is one corner of the aviary that the majority of the birds love to hang around in. We also have a table set up in the center that has a small bird bath and scattered foot toys. The foot toys are switched out daily. At the other end of the aviary is a hanging java perch that swings.

5~ Where did you find your materials if you made it yourself or where did you purchase the setup and do you have favorite places to purchase safe toys and/or supplies that you find reliable?

We contracted with a local fabricator who built it to our exact specifications. The mesh is USA made stainless steel, and the frame is galvanized steel that was painted with marine grade paint. All the fasteners are stainless steel. The pad is concrete. We imbedded 2 drains and piping into the pad so that we could easily hose it down without accumulating any puddles. Most of the bird toys were purchased either wholesale or through sales offered by vendors. Most recently I purchased 6 boxes of toys on clearance through Drs. Fosters & Smith. Wouldn't have known about the sale had it not been mentioned by an AA member!

6~ Do you have a favorite item that you bought for your setup?

It has to be the sissel netting. All the birds love to perch on top and to weave themselves in and out of the holes in the netting. My scarlet macaw loves to play hard to get while playing on the netting.

7~ If you made any DIY toys what is your bird(s) favorite and were there any failures?

I'm pretty basic when it comes to DIY toys. I use those stainless steel rings onto which I can thread blocks of wood as well as stainless steel chains for wood and other items they can chew through. The failure was buying a huge carton of undyed maple pieces, thinking it would take the macaws longer to chew through. Unfortunately neither macaw cares for maple.

8~ Did you incorporate into your setup any foraging toys and how did your bird(s) take to them and was age or inactivity a factor?

My CAG and macaws have taken to the Caitec foraging toys placed in various areas of the aviary. My little guys, especially the duskies, like to look for goodies that are randomly scattered on the table.

9~ What difficulties did you encounter, if any, and how did you remedy them?

Getting them used to the bird bath was challenging. I'd swish my fingers in the water and trickle a few drops onto them to get them interested. My duskies and BHC will bathe if I've sprayed them with a fine mister.

10~ What do you like least about your set up (if anything)?

The spiders absolutely love to make webs and lay eggs inside every single corner of the aviary. Therefore every single day I have to pass a broom over each corner before I can let them outside. Other than that, I absolutely love the set up.

11~ What do you like most about your setup?

We built a holding area that extends from the bedroom window into the side of the aviary. We don't ever have to take any birds out to the aviary in carriers. All we have to do is put them into the holding area, close the door, and then go outside to let them into the aviary. Super safe! We also have a double door entry for added safety. I absolutely love the size of the aviary!

12~ Did your bird(s) take to the setup right away or did they approach it tentatively needing time to adjust and do you feel their age was a factor?

Several were tentative, not having ever been outside before. However, after a few days they all readily took to their new digs. My birds are all pretty young, so age didn't seem to be a factor. My oldest bird is approximately 14-15 years old, and he took to it from day one.


13~ Any future renovations planned?

We'll definitely be adding more toys and hanging perches to the set up as well as some bird safe plants.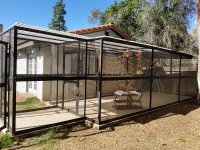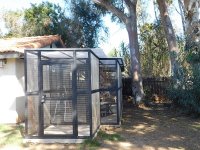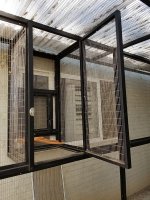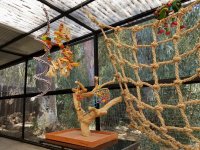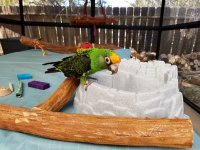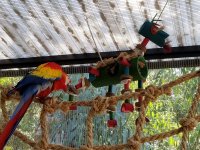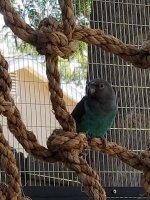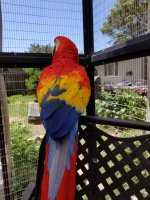 Last edited: