Sprinting down the street
Joined

7/22/21
Messages

455
And my laptop is losing!
I am still working 100% from home and will be for the foreseeable future. I generally use my laptop and work in different parts of the house. I try to keep the birds out all day, but it's getting really really difficult.
Argo has recently discovered that he can remove the keys from my laptop and he has become a birdie OBSESSED. This is my laptop right now: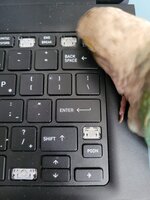 He has removed/broken 4+ keys. He can do it in a split second. He is not allowed on the laptop, but if I let him out while I am working, it's the only place he wants to be. I do set up foraging stations outside of his cage, but they dont occupy him for long. He ends up being put "in his room" much more often than I'd like, which means he has more pent-up energy which is not being burned off, which makes him bitey/unpleasant, which gets him locked up, etc.
The laptop destruction is just so self-reinforcing, I don't know how to intervene in an effective way.
I've been through 3 human toddlers who wanted to be with/on me at every moment, but never one who was so hell-bent on destruction!
Help?!?!?!!!!