Biking along the boulevard
Avenue Veteran
BINGO!
Celebirdy of the Month
Mayor of the Avenue
Avenue Spotlight Award
Joined

7/3/16
Messages

7,747
Location
Real Name

Sarah
April 2019 Feathered Estates Highlight


I am very pleased to announce this month's showcased member Coelle
​
1. What kind of birds do you have and how many birds did you design your setup for?
I have two budgies (blue is Pip and green is Avo) and one baby cockatiel named Nibbler (though he hasn't come home yet)! Pip and Avo share one cage and Nibbler had his own. So three birds in total but two cages.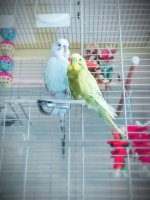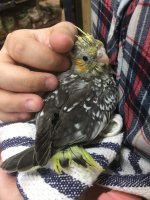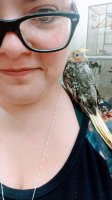 2. Is your setup for a handicapped bird?
It is not.
3. Are there any budgeting tips you discovered while doing your setup?
I would say to look on Amazon for great deals on cages. Both my cages I got from Amazon and they were much cheaper than the cages I was able to find in my local stores (and bigger too). Nibbler's cage is massive and it was under 200$. In store I was looking at well over 400$ for a similar cage. That being said, because it's coming from an online vendor and you're not able to see it in person before you buy, I'd pay close attention to the reviews just to make sure it's a quality cage.
Something that I really want to get into is making my own toys for my birds. I feel like this is a really great way to save some money when it comes to your set-up for your birds. This is something I have not dabbled in much yet, but I'd really like to try it out more seriously in the future.
4. Is your setup changeable orstationary and do you add or makechanges continually or do things stay primarily as is?
I'd say my set up is kind of a mix of both. I tend to change around the toys and perches in Pip and Avo's cage about once a week but I never really change the location of the cage in the house. Nibbler's cage has stayed the same, but that's mostly because he hasn't come home yet. His cage is also on wheels so it's fairly easy to move around the house if need be.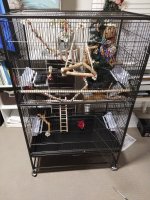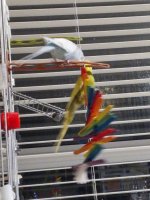 5. Where did you find your materials if you made it yourself or where did you purchase the setup and do you have favorite places to purchase safe toys and/or supplies that you find reliable?
I haven't really made anything myself yet, but it is something that I'd like to get into. I'm not really sure where to look for raw materials at this stage so anysuggestions are awesome! Particularly for a natural wooden play stand; mydad is into woodworking, so I'd love to make a play stand for the birds.
6. Do you have a favorite item that you bought for your setup?
I'm not really sure that I have a favorite item right now. I am a pretty big fan of Nibbler's wooden rope ladder and hiscoconut toy. I also love Avo's Disco Ball and Pip's Jiggle Balls (mostly because they are their favorites)!
7. If you made any DIY toys what is yourbird(s) favorite and were there any failures?
The one time I tried to make my own DIY toys for my birds was when I first got Pip. I tried to make him a foraging toy out of toilet paper rolls; he did not go near them at all lol. I will definitely tryagain though!

8. Did you incorporate into your setup any foraging toys and how did your bird(s) take to them and was age or inactivity a factor?
I have used a lot of foraging toys in my set ups. Pip mostly ignores them until Avo goes to investigates and then they both rip into the toy to get at the treats. Pip is the most timid of the birds and so he takes a longertime to warm up tonew toys and things. Ever since I got Avo though, Pip is much more likely to try outnew things that he would have avoided before. I'll be really interested to seehave Nibbler takes to these sorts of toyswhen he comes home!
9. What difficulties did you encounter, ifany, and how did you remedy them?
The biggest difficulty I've encounteredwith my set-up so far is getting the looseseed up out of the carpet. Pip and Avo's cage is in the corner of my living room, which makes it really hard to get thefallen seed in the corner with my big vacuum. I'm in a fairly small apartment, so there is very limited space for the bird's cages to go. I ended up getting a better vacuum and a small attachment for it to reach into the tighter places.
The other thing that I really dislike out the set-up is the design of Pip and Avo's cage in general. There is no pull out tray so I find it an absolute pain in the butt to clean. I plan on upgrading them to another cage at some point in the future to help with this.
10. What do you like least about your set up (if anything)?
Opps, kind of answered this above. Mostly I dislike the difficulty of cleaning Pip and Avo's cage. I just find it soooooo cumbersome and takes way more effort than it needs to since you have to remove the whole top of the cage from the base. Would much prefer another cage like Nibbler's with the pull out grate and drawer. Another thing are the side doors on Nibbler's cage. They are spring loaded doors with no real latch tohold them close; basically you just have to hope your bird isn't strong enough to push the doors open from the inside. Personally the design makes me a little uneasy so I plan to latch the side doors shut with a clip of some kind whenNibbler comes home.
11. What do you like most about your setup?
Right now I'm really happy with Nibbler's cage. I love the more natural look of it and how big it is; I'm hoping Nibbler will like it too! In the future I really want to make some kind of large play stand for all of them though.
12. Did your bird(s) take to the setup right away or did they approach it tentatively needing time to adjust and do you feel their age was a factor?
Since Nibbler isn't home yet I'll focus on Pip and Avo. Pip takes more time to adjust to changes than Avo does. Avo is always the one to check out new things first and then Pip will follow once hesees it's safe. Avo takes to new things pretty quickly and generally just jumpsright in, ready to explore. When I first moved Pip over to the bigger cage before Avo came, he took about an hour of flying back and forth between the blinds and dive bombing my head in protest before he gave in and went in to explore the bigger cage
. Avo literally just flew over and hopped right in whenthey moved in together. Pip looked at him like 'Oh, okay, I guess we're roomies now?'
13. Any future renovations planned?
I have so many things that I'd love to do with my set-up. First on the list is a big play stand for the living room. I really want to change Pip and Avo's cage to something wider and easier to clean. I'd also love to get something to attack to the window so the birds can sit and look out. And I'd also like to get a shower perch for Nibbler at some point. If I'm honest, I'd love to turn my whole house into a giant birdy playground, but Idon't think I'd get my security deposit back ifIdid
. Oh well, a girl can always dream!