Lil Monsters Bird Toys
Super Moderator
Vendor
Avenue Veteran
Celebirdy of the Month
Mayor of the Avenue
Avenue Spotlight Award
Avenue Concierge
Joined

8/9/11
Messages

31,498
Location
Real Name

Shawna
I haven't had the heart to say anything but Wilson and Stark are no longer living with me, and haven't been since end of August.
My landlord hired a property manager this year while he moved out of state, and the new guy has been awful to work with. We've been looking for a new rental since April, but my area is in a severe housing shortage, and pet friendly units even more so. Plus with COVID, things have been even crazier.
So, we looked into buying a home, and we're pre-approved! But because mortgage rates are so low and again, housing shortage, they are going expensively and quickly. Like, sold for cash 20k over asking price within 24 hours fast. So we can't catch a break either way.
My lease renews every September and I have to re-sign; no month to month. My property manager asks me beginning of August if I plan to renew my lease. It's less then 30 days before my current one expires, so of course I reluctantly say yes.
A week before the end of my lease, he sends me the new lease to sign. My rent is going up another $20 (it's now gone up over $100 since I first moved in) and it specifically says I can have my bird, cat, and gecko. He knows I have rats as he has seen them. I ask him about it and he says, "we've decided that we are no longer allowing dogs, snakes, or rodents as pets."
My rat boys turn 3 in November. What am I supposed to do? I have a week to either find a pet friendly place, or find someone that wants a couple of senior rats.
I went to Craigslist, and was going to post a cry for help. I checked the animal section first, I'm not sure why. To delay the inevitable? And I see this ad.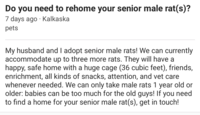 This couple had an older rat boy who was currently alone, as his cage mates had all passed on. Rats do not do well alone, and with mine being older I was already stressing about what to do when I was left with a singleton.
It just seemed kismet.
I met up with them, and I loved them. They were very nice people. I let them take Wilson and Stark home as friends for their loner for their final days.
So in the end, it was bittersweet. It broke my heart, but it worked out the best way it could have considering the circumstances.
And now I'll hopefully be able to buy my own home before I have to renew another year, and I'll never again be at the mercy of someone else's demands.