I used to own 5 adult, flighted budgies. Four females, one male. None tame. The male and two females (given to me as males) were second hand birds, where-as the other two hens had come from a breeder, but both were older birds (perhaps 1+ years old?)
March of 2007 (when the flock was estimated to be 2-8 years old), I decided to do a little experiment. My goal was not to tame the budgies, but to see how much I could get them to trust me. I generally feed my birds enough dry food to last them one day, as well as however much fresh food they are willing to eat. Fresh food never left out for more than a few hours, and never overnight. In this way, their food has *ALWAYS* needed to be refreshed first thing in the morning.
The below image shows the size of the cage they were in. The dimensions being 30"L x 20"W x 43"H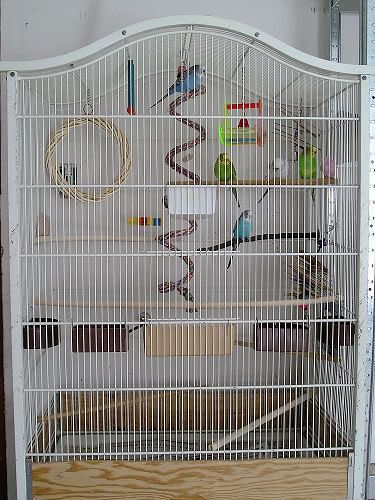 What started the idea, was when the two new rehomed hens had come, and being stuck inside a cage, I'd try and tempt them out with their food dishes so that they could interact with the 'trio' and get some exercise. I started this late February of 2007. Shortly there-after, I started using my hands instead of the dishes.
Now, the experiment itself started out by feeding them seed first thing in the morning from my had, just inside the cage. After they ate their fill, I would replenish their food. This video is from early March, 2007.
I'll include some cross-posts from the early days!
.....Casey [cockatiel] kept wanting to go up and eat, but she kept stopping and turning around trying to decide between food and scritches! Scritches won out!

Well, it took a few, but once Smurf decided it was okay to eat from my hand, all the rest joined in! And they fought over who got to eat from my hand! Such picky little buggers!

Then when my hand was running out of the seed, and becoming too crowded for the likes of some, Georgia, Sophia, and Smurf all few to Noel and Casey's gym to eat from there... however being that I had previously removed their dish, the budgies had to come back to the cage first before I finally got them some food in their own dishes!
After about a week of feeding them in this manner, I went to right outside the cage door.
Well here's some pics! This time I fed them OUTSIDE of the cage, and only the little green gal (dominant pied light green) wouldn't come out for food.... but the top "3" budgies were the piggies!

Since the cage sits on two plastic shelves (wish I could replace these with something safer/stronger... but they work for now...), and I was sitting in a chair next to the cage, I had my foot propped up on one of the shelves to support my arm (so I wouldn't have to hold my arm up the entire time the budgies ate). Casey, being the little brat that she is, always needing scritches, came and visited me.... and sat on my leg, under my arm (that I was using to feed the budgies with) then kept beggin for scritches! Silly girl!

She got scritches later on, after I "flew" Noel, as she jumped onto my shirt and climbed up the front!
Some thumbnail shots, you can click to enlarge!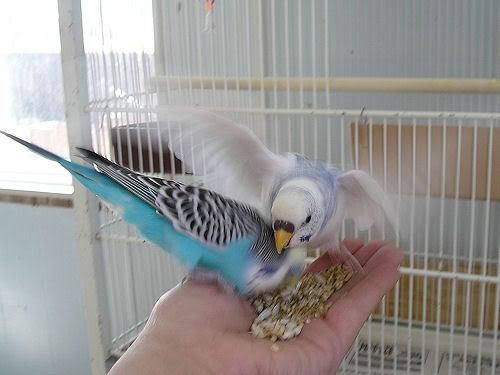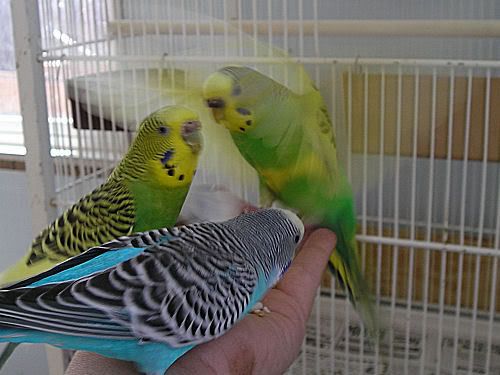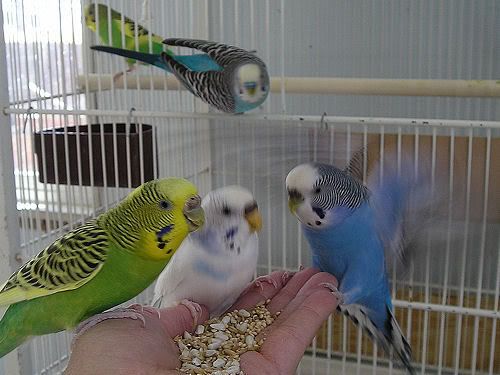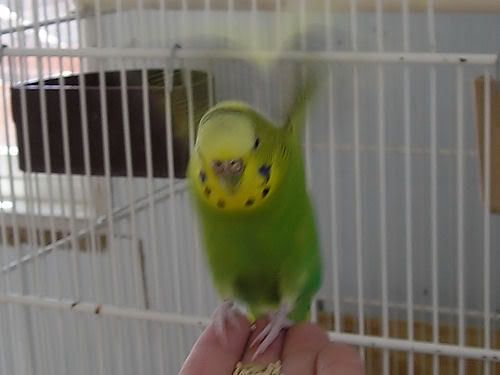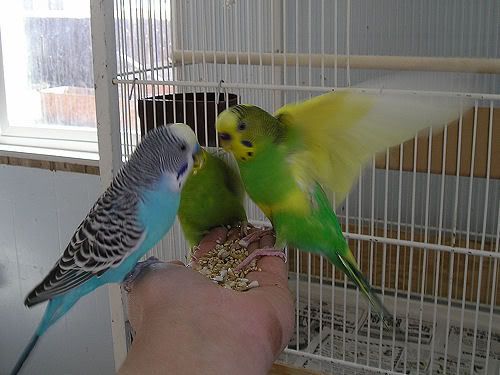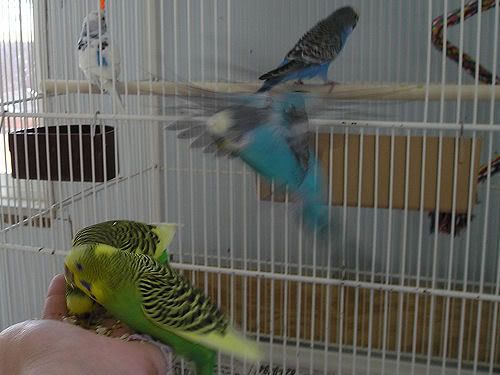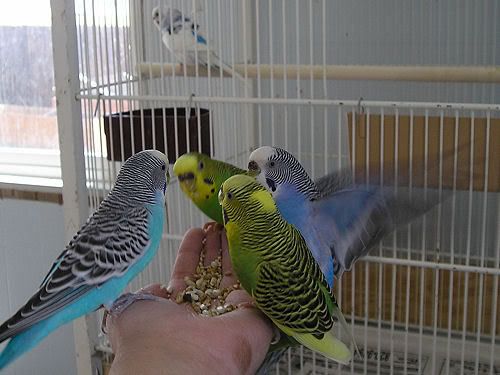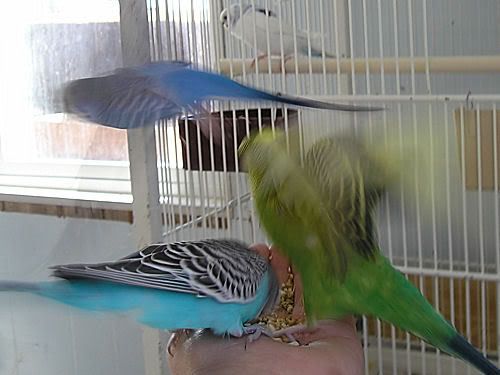 Monday, the 13th, I had a friend who wasn't feeling to well... so I had him feed the budgies from his hand as I had previously done so. At first the budgies were quite hesitant, because they don't really know this person, let alone seen him very often (although the two new girls saw him before they saw me!)... It took them a few moments before they decided to come down and eat from his hand, but eat they did!!! And, because the budgies ate from his hand, it did cheer him up a bit!

These budgies are not tame. They are not clipped. I'm not trying to tame them... to be honest, I don't even know what I'm doing or WHY I'm doing it! All I know is that I just am... When I have the seeds in my hand and I go over to the cage, and the budgies know it, there's at least one budgie waiting for me to open the door to the cage so he can hop out and get some food. And his girls are sure to follow.
By early April of 2007, I had the budgies flying a few feet from inside their cages to my hands, every morning!
So in the end, I had achieved my goal. Strangely enough, it was just the beginning!
Last edited: