Cruising the avenue
Vendor
Avenue Veteran
Celebirdy of the Month
Mayor of the Avenue
Avenue Spotlight Award
Joined

10/19/09
Messages

13,181
Location
Real Name

Jen
We had a vet appointment for Abs yesterday because I was a little worried about her weight which was down to 470 grams on my scale. Turns out that she was 490 grams the last time she was seen at the UW...guess I'm just a worry wart! She was given a good bill of health although I'm still waiting to hear about the blood draw. They said they would be surprised if they found anything though as she's literally the picture of health and she was so good too! Here are some pictures of her while we were there because I had nothing better to do than snap pictures!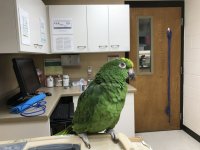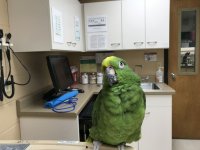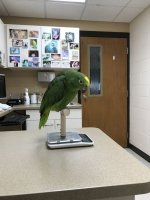 She was under the influence here...I've never seen her lay on her back like this before but she was too stoned on midazolam to stand up!
I got some good cuddling in with her!